Despite strong rallies in countless altcoins, the fourth-largest cryptocurrency XRP has yet to share in the gains.
According to CryptoSlate data, the digital asset is approximately flat on the year. This may not sound like a bad thing, but contrast this with Bitcoin's 20 percent gain or Ethereum 80 percent gain and you can see why this is underwhelming. Worse yet, XRP is down by more than 90 percent from its all-time high price in excess of $3.
But should a long-time correlation between the cryptocurrency and one of its close competitors, Stellar Lumens (XLM), hold, XRP could soon undergo a much-needed rally.
XRP could finally rally because of XLM's price action
As reported by CryptoSlate previously, XLM has been one of the best performing cryptocurrencies over recent days.
The asset gained 12 percent on Jul. 16, moving past crucial technical resistances as per analysis by Peter Brandt, a long-time commodities trader. XLM rallied on the back of news that major Korean technology company Samsung will be integrating the cryptocurrency into its Samsung Blockchain Keystore product.
After a slight retracement as hype about the news died down, XLM has slid back under the $0.10 resistance but remains bullish as it holds key levels.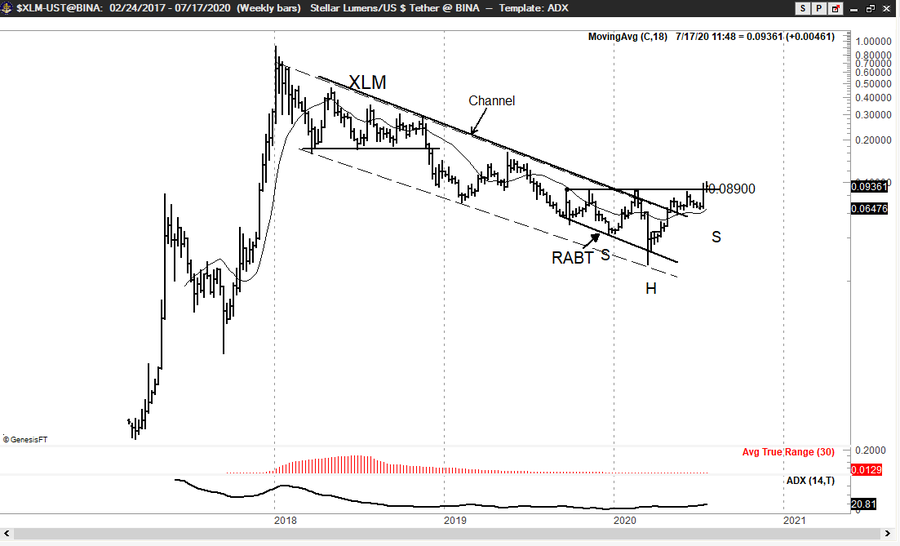 This is pertinent to XRP because the two assets have long been correlated with each other in terms of their price action.
Analyst "Ceteris Paribus" shared this chart on Jul. 16 in the wake of XLM's 12 percent surge. It shows that the two cryptocurrencies were basically tied at the hip from July of 2019 until April of this year. This can be corroborated by correlation data from Coin Metrics, a blockchain analytics firm, which reports that the 180-day correlation of the two assets is over 0.80.
Yet, as the chart also shows, they have recently deviated from each other. In the past year, XLM has gained nearly 30 percent while XRP has lost 34 percent over that same time period.
Should the correlation recover, that means that XLM will need to crash or XRP will need to surge.
Not everyone is convinced XRP will rally
Even with this strong correlation indicating that XRP may have some upside, not everyone is convinced that the asset will end up rallying.
Brandt wrote earlier this year that since XRP broke a crucial resistance against Bitcoin, it could be primed to see a 90 percent correction to levels not seen since early 2017:
"Looks like Ripple Labs has blown the wad allocated to support XRPBTC at .00002060 to .0002075 levels. If ice-line cannot be reclaimed, look for new support at .0000194 on way to .0000145. Hey, I'm just a boomer who hates XRP."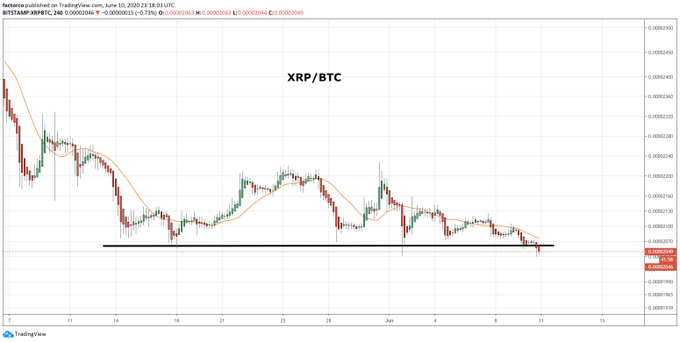 CryptoSlate Newsletter
Featuring a summary of the most important daily stories in the world of crypto, DeFi, NFTs and more.
Get an
edge

on the cryptoasset market

Access more crypto insights and context in every article as a paid member of CryptoSlate Edge.

On-chain analysis

Price snapshots

More context