After weeks of bearish movements, the crypto market is finally looking to put up a fight. Investors are slowly returning to the market and looking for some of the top altcoins to buy.
The best investors know that dips are the perfect time to invest and get ready for gains. With the market being bearish for most of December 2021, here are some top altcoins to buy with significant upside going forward.
1. Solana (SOL)
SOL – the native token for the Solana blockchain – is the first option on our list of the top altcoins to buy. The asset had a stellar year in 2021, increasing by 11,120% all through the year. This was a better return than most of the other coins atop the CoinMarketCap rankings.
The jump in SOL's price all through last year came as the Solana blockchain emerged as the top "Ethereum killer" – essentially, blockchains looking to take on Ethereum's crown. While Ethereum remains the top option among developers, its scalability issues were a big theme in 2021.
Solana took advantage of this, attracting developers with its 1,847 transactions-per-second throughput and competitive transaction fees.
With its high efficiency, Solana has attracted many high-profile names – including FTX; now the world's third-largest crypto exchange.
Grading into 2022, it's all a question of whether SOL will be able to continue its trajectory. The asset's price dropped significantly in December, shedding 18.3% of its value. Still, this just goes to show that SOL has a lot of upsides to recover.
With the asset now trading at $135.60, a change in the market will present a significant opportunity for SOL to grow.
2. Etheruem (ETH)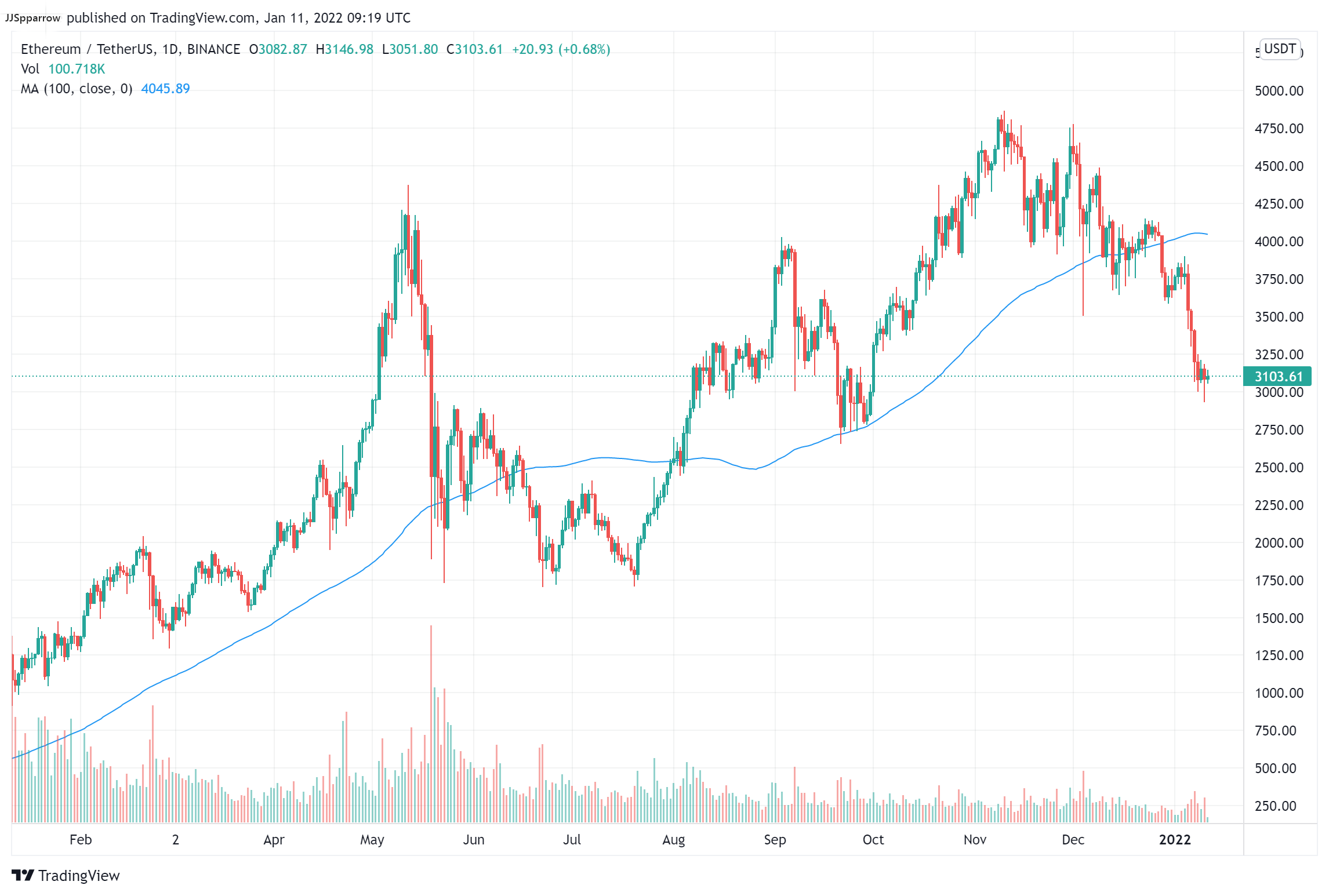 The largest altcoin of all, ETH comes next on our list of the top altcoins to buy. We're sticking with ETH for many reasons. First is the fact that the asset has shown significant gains over the past year.
After dropping by 20% all through December, ETH has a long way to go to climb back to the lofty heights of $4,000. But, that also presents an opportunity for investors to get in now and clock in gains when the asset starts to test its highs.
Many believe 2022 to be a make-or-break year for Ethereum. As explained earlier, the blockchain's scalability issues affected it significantly all last year. However, the Ethereum Foundation is confident that these issues will be addressed by Etheruem 2.0 – the blockchain's massive upgrade.
Among other things, Etheruem 2.0 will transition the blockchain from the proof-of-work O(PoW) model to proof-of-stake (PoS).
Ethereum 2.0 staking is already shaping up, and data shows that it is already the third most staked coin – behind SOL and Cardano's ADA token.
Last August, the Ethereum blockchain successfully completed the London hard fork – one of the most important steps in the transition to Ethereum 2.0.
Given that the hard fork went smoothly, there is a lot of optimism that Ethereum 2.0 will come this year and truly be the solution that Vitalik Buterin and the Ethereum Foundation believe it to be.
3. Binance Coin (BNB)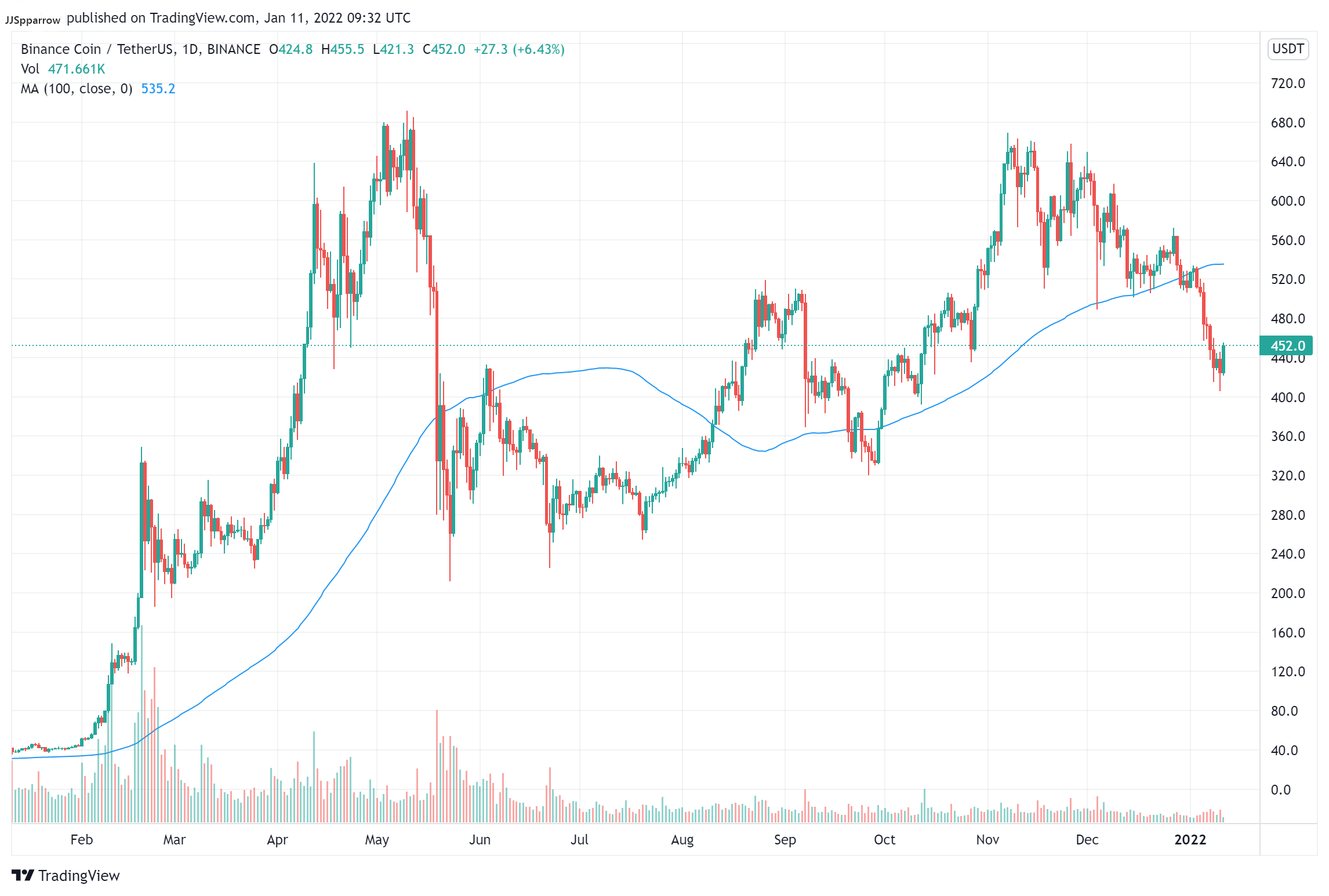 BNB is the native token for Binance – the world's largest exchange, per CoinMarketCap. The asset is used for several purposes, including paying fees on Binance.
As an exchange token, BNB's price is significantly tied to Binance's operations. However, it is also a top altcoin, so the broader market's moves will weigh on it as well.

With the market sliding in December, BNB felt it as well. The asset's value dropped by 19.2% in December, erasing months of gains in the process.
While BNB had a great year overall in 2021, its value was plagued with incessant volatility. This was due in part to issues with Binance. Already the world's top crypto exchange, Binance got embroiled in several conflicts with regulators.
From being labelled as an "unregistered exchange" by the Italian regulators to being fined $750,000 by Turkey's Financial Crimes Investigation Board (MASAK), Binance had a bit of a rocky year.
But, there is renewed confidence that the company will get its act together in 2022. Binance got cleared to operate in Canada and the kingdom of Bahrain late in December, giving the company much of a boost to start 2022.
Also, the company was reported to have made $20 billion in 2021 – making its CEO, Changpeng "CZ" Zhao – one of the world's richest men.
4. Cardano (ADA)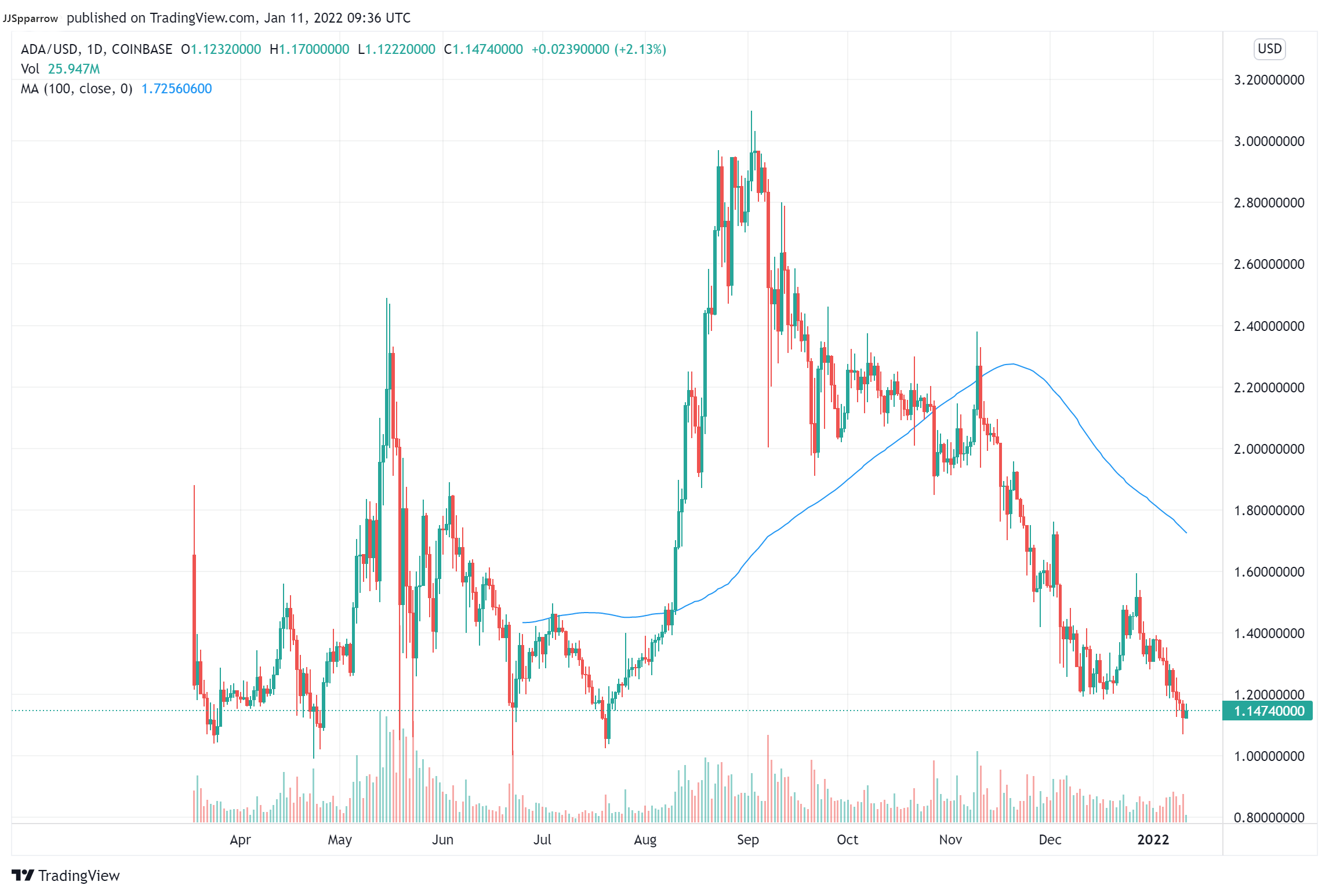 ADA is next on our list of the top altcoins to buy. The native token for the Cardano blockchain, ADA has been on many investors' watchlists of late. This is partly due to expectations of increased users following the launch of smart contracts on the blockchain.
In September 2021, Cardano successfully implemented its Alonzo hard fork. The hard fork brought smart contracts to the blockchain, paving the way for builders to utilize its services.
Now, decentralized finance (DeFi) protocols, non-fungible token (NFT) marketplaces, and other types of decentralized applications (dApps) can now be built on Cardano.
Recent data from Santiment showed that Cardano was the most developed crypto project on GitHub in 2021. This shows that more developers are building there.
With the Cardano Foundation also spending significantly on efforts to increase the blockchain's appeal to developers, we expect to see increased numbers this year.
ADA shed 17% of its value in December, so it is ripe for more upside. As the market starts to work out of its bearish rut, we expect to see some gains here.
5. Ripple (XRP)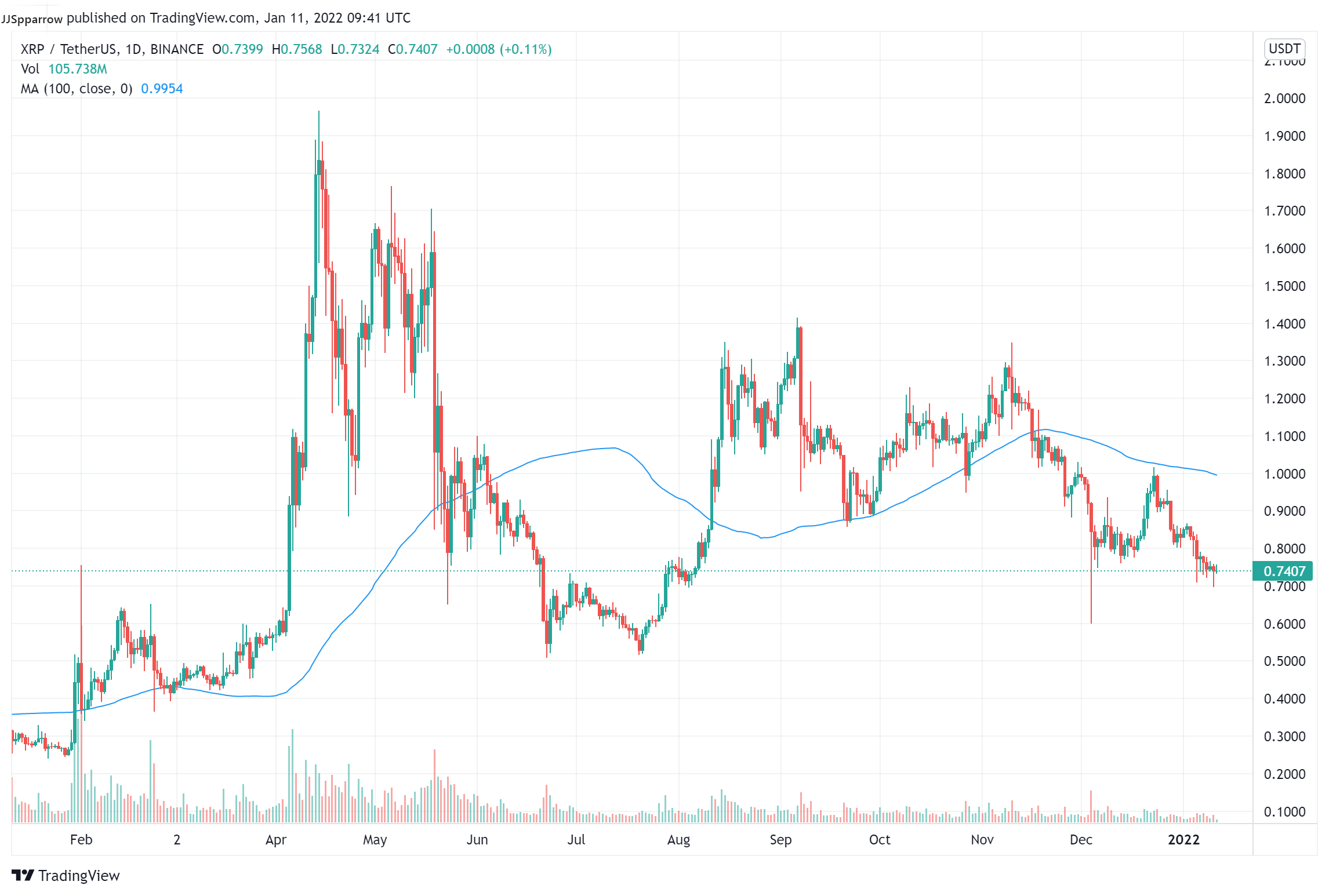 XRP is one of the most valuable cryptocurrencies in the market. Developed by Ripple Labs, this asset is also the crypto industry's foremost payment-focused coin. With a high transaction throughput and low fees, XRP makes cross-border payments a breeze.
However, we're including XRP on our list of the top altcoins to buy because of developments from its holding company. Ripple Labs was hit with a massive securities fraud lawsuit in December 2022 from the Securities and Exchange Commission (SEC). The suit had a massive effect on the asset's price, with XRP losing 20% that month alone.
Despite the optics – as well as a wave of delistings from several top crypto exchanges – XRP managed to have a pretty good year in 2021. Its price jumped by 292% throughout the year, even though December was pretty rough as it shed 16.4% of its value.
Going into 2022, XRP has a point to prove. For one, there is growing optimism that Ripple Labs and the SEC will settle their suit soon.
If this happens, the blockchain giant will be free to operate unencumbered – and, according to company chief executive Brad Garlinghouse, perhaps even push for an initial public offering (IPO).
Read more: