It is now the second day of moderate gains for the market as investor sentiment is starting to turn positive. This means great news investors looking for the best layer 2 crypto to buy as well.
As investors are now hoping to pick their entries right and time the market, it is always important to invest in assets backed by solid projects. To that end, consider some of the top layer-2 coins as part of your portfolio:
1. Polygon (MATIC)
MATIC is the most popular among the top layer-2 coins. The asset is one of the most valuable coins in the market, and it has been part of many investors' watchlists recently.
MATIC is the native token for the Polygon Network – a blockchain scalability solution built for Ethereum. Polygon makes it possible for Ethereum-compatible blockchains to be connected and built.
Its developers have dubbed the asset Ethereum's "Internet of blockchains. " Batches of transactions can be processed on the blockchain, bypassing Ethereum and allowing developers to enjoy faster, cheaper transactions.
Over the past few months, MATIC has been on an impressive roll. Before December came, and the market started to trade sideways, MATIC had jumped by 67% in a single month. MATIC is poised for big gains now that the market is looking to put those bearish weeks behind it.
The year 2022 is expected to see additional blockchain development come to light. With Ethereum still battling scalability issues, the Polygon Network is sure to see a spike in activity. This will benefit MATIC in the long run.
Then, the protocol is also becoming more compatible with non-fungible tokens (NFTs). The Associated Press recently launched an NFT marketplace on Polygon, and Dune Analytics data shows that NFT activity has been spiking on the network as well. With NFTs still being a hot trend, we see a lot of upside for MATIC.
2. OMG Network (OMG)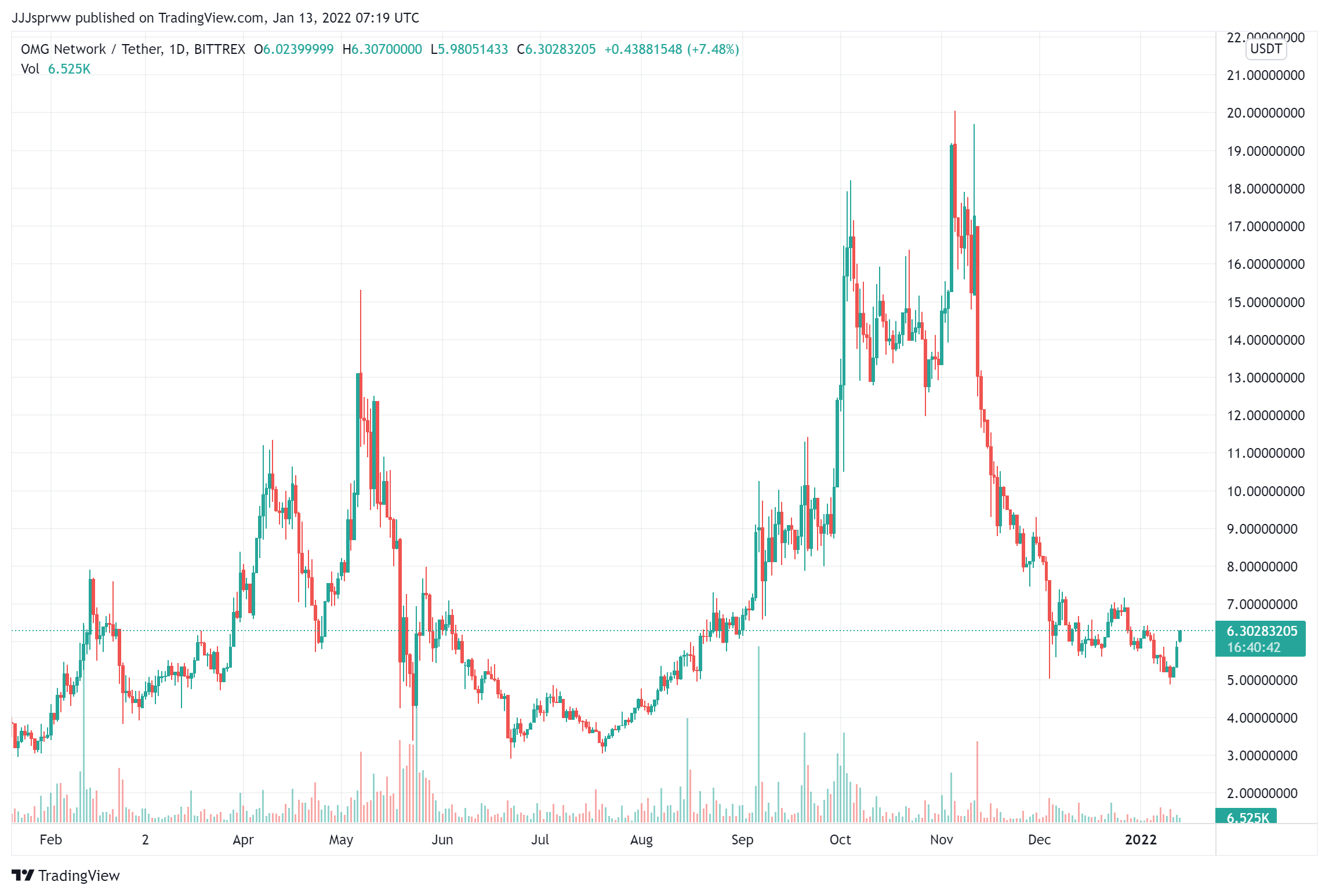 Coming in next on our list of the top layer-2 coins is OMG. Also a native token, this asset powers the OMG Network – a layer-2 scaling solution that makes it easier for people to move money between services.
Like Polygon, OMG Network operates on the Ethereum blockchain. The software sources liquidity for transactions from Ethereum, using its infrastructure to help users move money and digital assets from place to place.
There is presently an impressive uptick in the price of OMG. The asset currently trades at $6.30, a healthy 7.4% increase in the past 24 hours. Considering that the market itself has only risen by 3.2% in that same period, OMG has managed to outperform the broader industry.
Increased liquidity could also help OMG. This week, top crypto exchange Kraken announced that it had listed the asset for its Japanese users. Increased trading should bolster the asset's stability and prime it for bigger runs.
3. Bancor (BNT)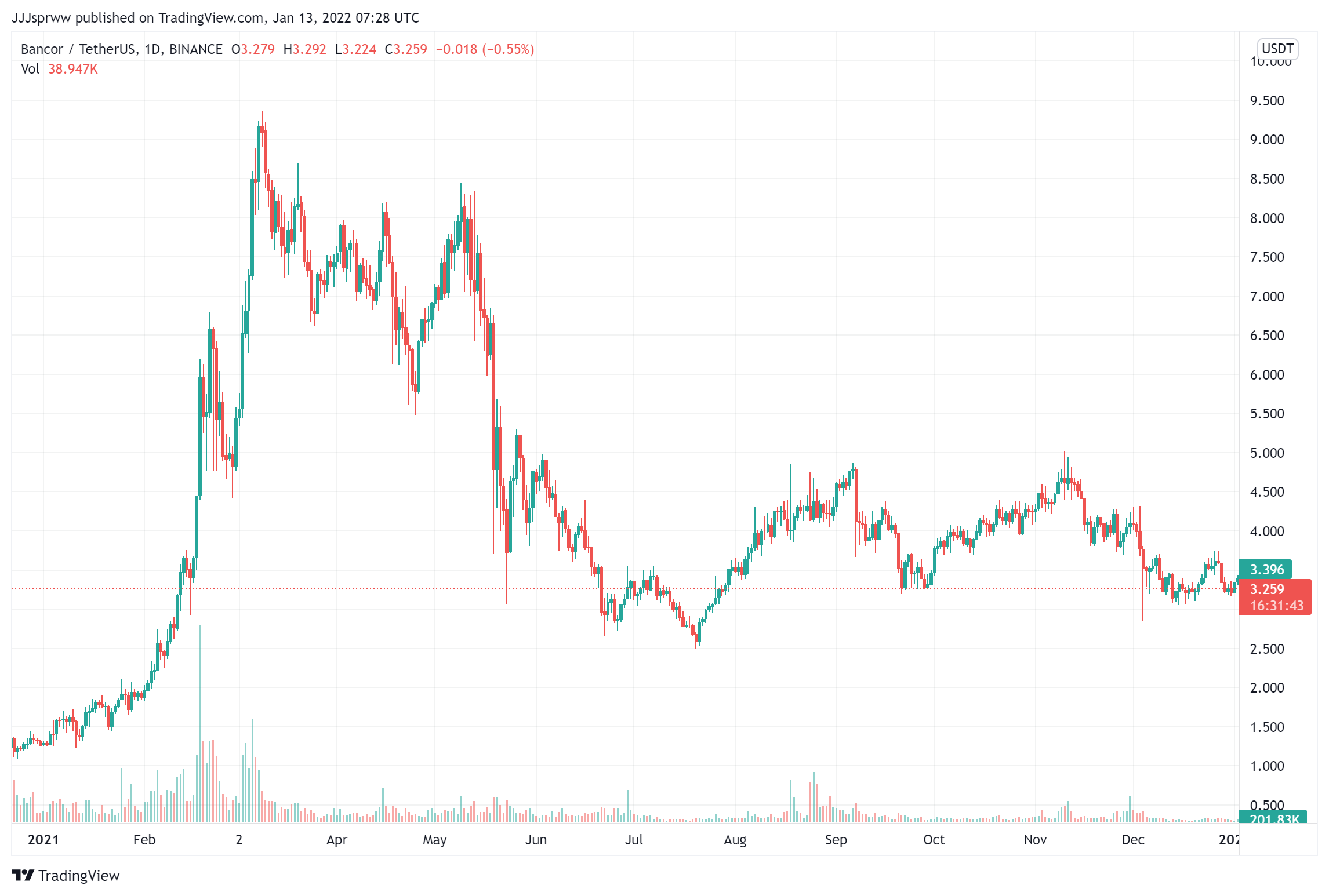 Another best layer 2 crypto to buy for lower risk returns is BNT – the native token for Bancor. Bancor focuses on incentivising users to offer liquidity to decentralised finance (DeFi) protocols. The asset works like an automated market maker (AMM), allowing investors to offer funds that help DeFi protocols work.

In exchange for their liquidity, these investors – known as liquidity providers (LPs) – get paid interest and a portion of the protocol's fees.
Bancor's BNT token took a bit of a dive to start the year when top crypto asset manager Grayscale Investments announced that it had dropped the asset from its Grayscale DeFi Fund. Grayscale didn't explain why it rotated out of BNT.
Despite this, BNT has a lot to offer. BNT is coming off a year where its price jumped by 157%, and Bancor is still an important part of the DeFi space. DeFi is expected to grow in many ways this year, and AMMs like Bancor will be important in sourcing the funds needed for this expansion.
Once the market can properly shake off its bearish rut, BNT is primed for a run.
4. Skale (SKL)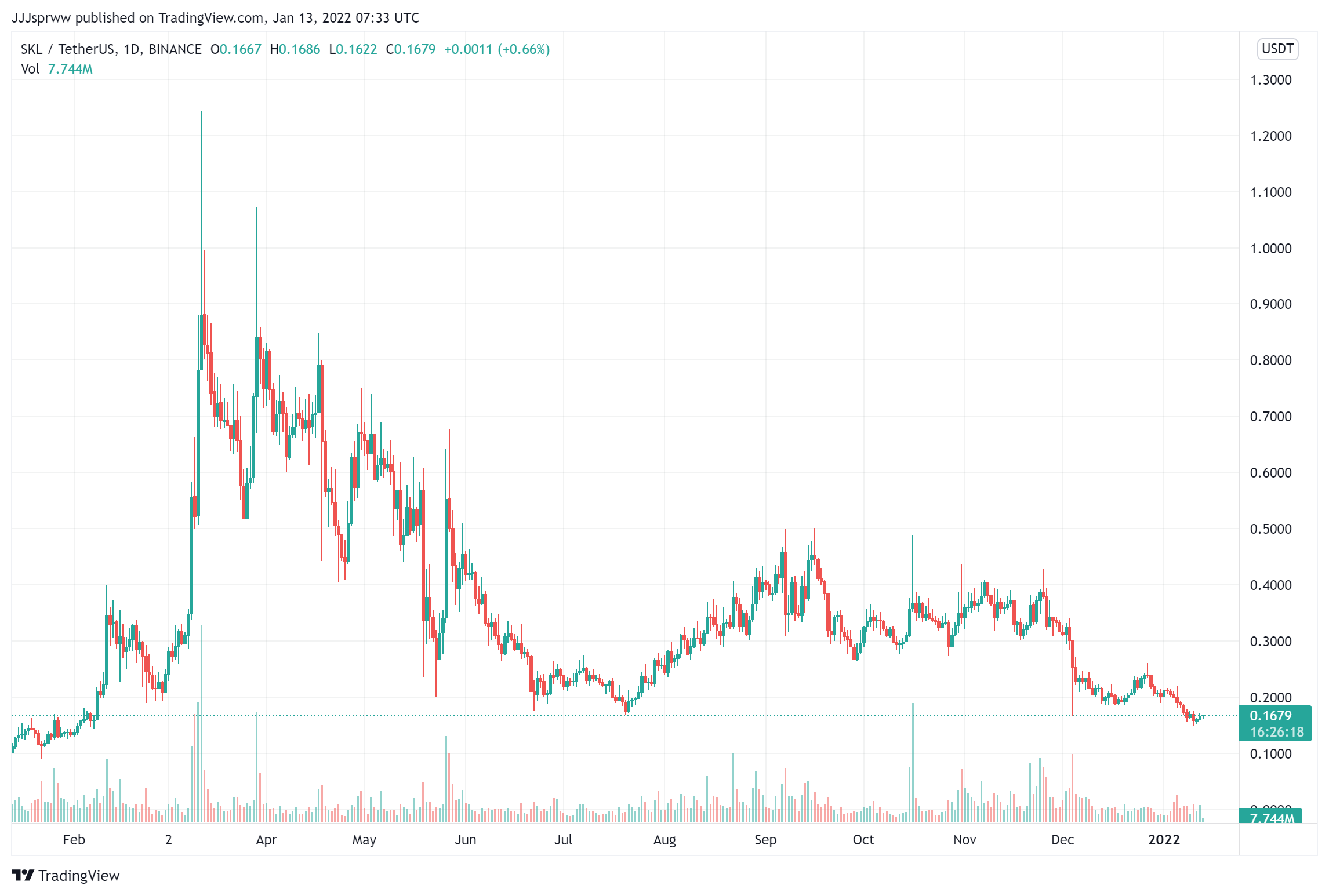 If you're an investor looking to invest long-term in undervalued assets, then SKL is one of the top layer-2 coins for you.
The asset powers the Skale Network – a self-described "elastic" blockchain network looking to power the next generation of blockchains. Skale chains are application-specific, configurable blockchains (known as "dynamic shards") that operate above the Ethereum base layer.
Blockchains can rent Skale chains, taking advantage of the greater speed and lower fees to process more transactions a second. All Skale chains can run fully-featured smart contracts, execute rollup contracts, and even support decentralised applications (dApps).
Skale's SKL token is performing moderately, with its $0.1679 price being a 0.66% jump in the past 24 hours. Again, with blockchain development is expected to grow significantly in 2022, more developers will be looking to capitalise on projects like Skale that offer access to the Ethereum infrastructure without dealing with its fees and latency. SKL has some potential and is one of the best layer 2 crypto to buy for lower risk returns.
5. Celer Network (CELR)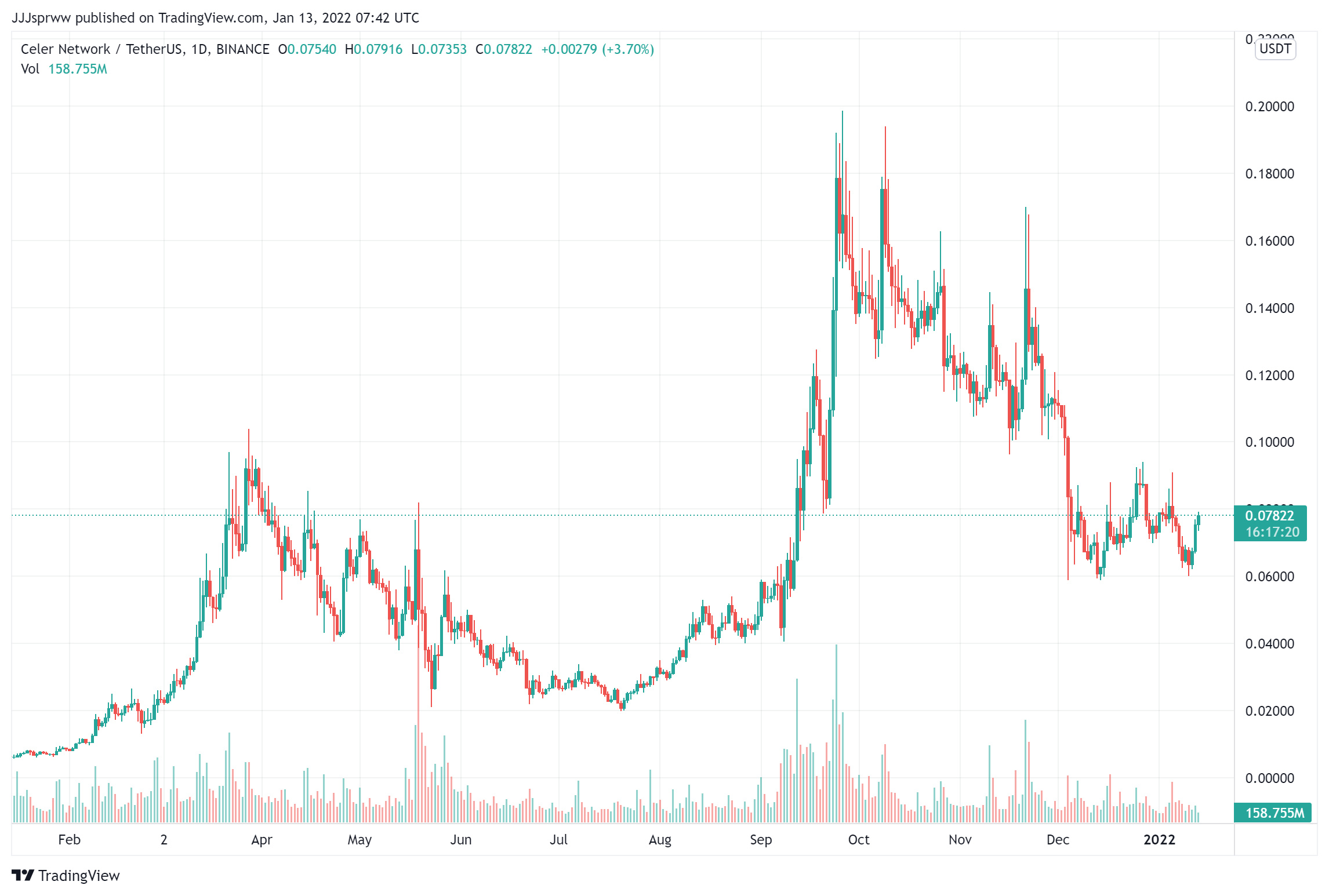 Last, but not least on our list of the best layer 2 coins is CELR – the native token for Celer Network.
Celer Network is a layer-2 scaling solution that allows users to enjoy quick, cheap, and secure off-chain transactions for smart contracts and payment settlements. Founded by Ph.D. holders from several Ivy League schools (including MIT and Princeton), Celer Network allows anyone to build and operate scalable decentralized applications (dApps) by using its off-chain infrastructure.
Celer Network comes with several features, including zero-fee off-chain smart contracts, 10,000x on-chain latency reduction compared to Ethereum, and horizontal scalability with the addition of more nodes. Celer Network is also blockchain-agnostic, and it currently works with Ethereum, DFINITY, and other chains that are compatible with the Ethereum Virtual Machine (EVM)
The platform's CELR token has been doing quite well recently. Its price of $0047821 is up 3.695 in the past 24 hours, and the asset is up an impressive 25% in the past 5 days.
Read more: