The cryptocurrency market has taken another small dive after a day or two of recovery. At $2.1 trillion, its total cap has fallen by around 3% in the past 24 hours. Most major cryptocurrencies have fallen in tandem, with bitcoin (BTC) and ethereum (ETH) dropping by 2.4% and 3.8%, respectively. However, a number of cheaper altcoins have been able to have a strong week despite the continued negativity. Accordingly, we've put together a list of the 5 best altcoins to buy on low prices right now. This covers coins priced under $100.
5 Best Altcoins to Buy on Low Prices
1. Cardano (ADA)
ADA is down by 1.4% in the past 24 hours, having dropped to $1.52. However, this represents a 34% rise in the past week and a 22% rise in the past month.
ADA's relative strength index (in purple above) has taken a dive after a few days of strong momentum. Still, its 30-day moving average (in red) remains comfortably above its 200-day average (in blue), so the coin is still enjoying an upswing.
ADA has been rallying over the past couple of days, while the rest of the market has either stagnated or gained modestly. This is because Cardano has seen an increase in the number of apps and projects launching on its platform.
We can expect significant network traffic around the launch of new #DApps, especially in the early days. And especially around the most hotly anticipated new #DeFi launches, with many coming soon.
🧵1/7

— Input Output (@InputOutputHK) January 7, 2022
More generally, ADA has been due a rally for several months now. It rolled out smart contracts in September of last year, and since then its ecosystem has been steadily developing. Indeed, it has now registered some total value locked in. At $3.3 million, this is very small compared to other big coins. But given that this figure stood at $0 only a couple of months ago, it suggests that Cardano's DeFi ecosystem could grow quickly this year.
Multiple #DeFi & #DApp projects have begun testing & will soon deploy on #Cardano. It is as exciting as it is hard to follow.

To help you keep track of who is #BuildingOnCardano check this ecosystem map by the @CardanoCube team and be sure to visit👇👏https://t.co/3RSAGRLZ5K

— Input Output (@InputOutputHK) January 6, 2022
2. Secret (SCRT)
SCRT is down by 2% in the past 24 hours. At $9.26, it's also down by 62% in the last seven days and by 133% in the past month. It's also only 10% off its all-time high of $10.38, set back in October, so expect it to break that soon.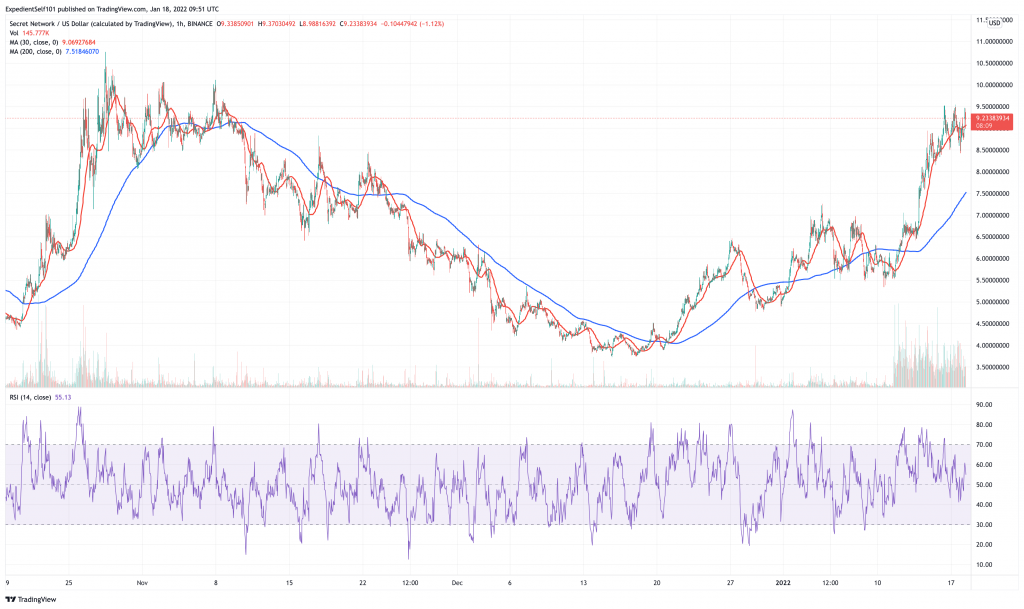 It's possible to say that SCRT has had a little cooling off period in the past day or so. Its RSI has sunk back down to a more sustainable 60. Yet importantly, its 30-day average continues to rise above its 200-day average, suggesting a continued rally overall.
Secret Network is a layer-one blockchain that enables smart contracts, but with enhanced privacy settings as default. It sparked its current rally by unveiling plans for the next phase of its development. Dubbed Shockwave, this will see the platform greatly expand funding for its own development, while it will also grow its Secret Agent programme, which provides rewards to active community members.
NEW: Today we finally reveal Secret's next and most explosive growth phase: Shockwave ⚡🌊

Learn how we aim to solidify Secret Network as the privacy hub of Web3 in 2022, onboarding hundreds of projects and hundreds of thousands of users.

More soon 🤫https://t.co/TWgxJOdYft

— 𝕊ecret Network – Shockwave is Here ⚡🌊 (@SecretNetwork) January 12, 2022
Another positive development for Secret is that it's currently witnessing a greater rate of growth for staking than on any other platform. This is only one indicator of its strong growth, which is why it's one of our 5 best altcoins to buy on low prices.
$SCRT Staking going up more than ANY other chain.

Report via: @StakingRewards pic.twitter.com/Cyaec6NiR5

— Brendan | Whi𝕊perNode (@SCRTAgent000) January 14, 2022
3. Uniswap (UNI)
At $17.59, UNI has jumped by a little over 3% in the past hour. It's also up by 2% in the past week and by 16% in the last 14 days.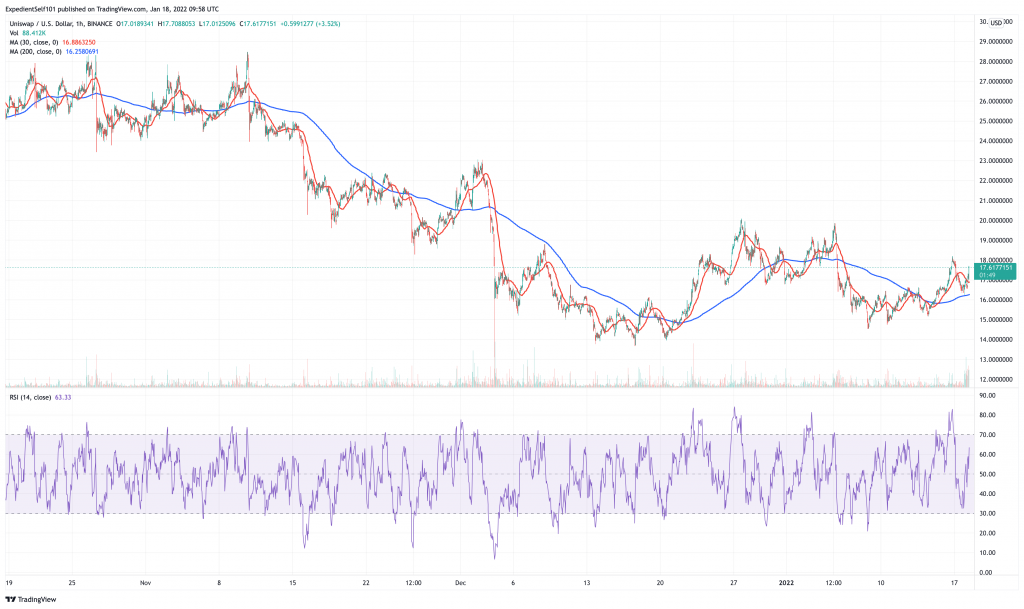 UNI's RSI shows that it may have just begun a breakout rally, having jumped from 30 to 60 in the past few hours. Its 30-day average also recently overtook its 200-day average.
One of the main reasons for UNI's rally is that the Uniswap decentralised exchange is experiencing considerable growth right now. Particularly after launching on Polygon, it has witnessed a marked uptick in users and transactions.

1/ @Uniswap v3 has started off the year on @0xPolygon on a high note, saving users more than $10 Mn in gas fee vs Ethereum.

Unique users: 7k (+113%)
Txns: 52k (+198%)
Avg. Txn/ User: 6.5 (2.5x of Eth)

Overview: pic.twitter.com/mEdBGGFdEK

— Simran Gogia (@Simran__02) January 17, 2022
With increased usage of Uniswap comes increased demand for UNI, which is used as a governance token.
4. Fantom (FTM)
FTM has risen to $2.89 in the past 24 hours, a fall of nearly 10%. On the other hand, it has jumped by 30% in the past week and by 100% in the last 30 days.
FTM's indicators have slipped after its fall over the past day. Nonetheless, with its RSI just above 30, this could suggest that it has been oversold and is about to begin another jump.
A smart contract platform, Fantom is quickly becoming a rival to Ethereum and other similar blockchains. It has reached $7.44 billion in total value locked in, up from only $1.5 billion at the start of October.
In parallel, Fantom's ecosystem now encompasses more than 200 projects and apps.. Given that FTM functions as a governance, staking and fee token within this ecosystem, its value will surely continuing seeing growth in the coming weeks. This will be magnified by the fact that it has a capped supply.
Fantom Ecosystem🚀@FantomFDN Ecosystem is over 200+ projects now, and it is just the beginning. Imagine when people are moving to #Fantom Opera because of its vast potentials. That won't be far away🚀#FTM #Fantom #BuildOnOpera $FTM pic.twitter.com/vYf4yO3ulU

— Fantom Daily (@fantom_daily) December 28, 2021
More fundamentally, Fantom has announced a number of new integrations over the course of the previous year. For example, it now supports the USDC stablecoin, thanks to a partnership between Allbridge and Beethoven-x.
💪 $USDC is now available on @FantomFDN!

🔥 Together with our partners @beethoven_x we are bridging $USDC to #Fantom.

👇 Full details: https://t.co/PQj25NkrxY

— Allbridge (@Allbridge_io) December 23, 2021
5. Harmony (ONE)
ONE has risen by 4% in the past hour, to $0.336727. While falling by 1% in the past hour, it's also down by 22% in the past week and by 61% in the past month.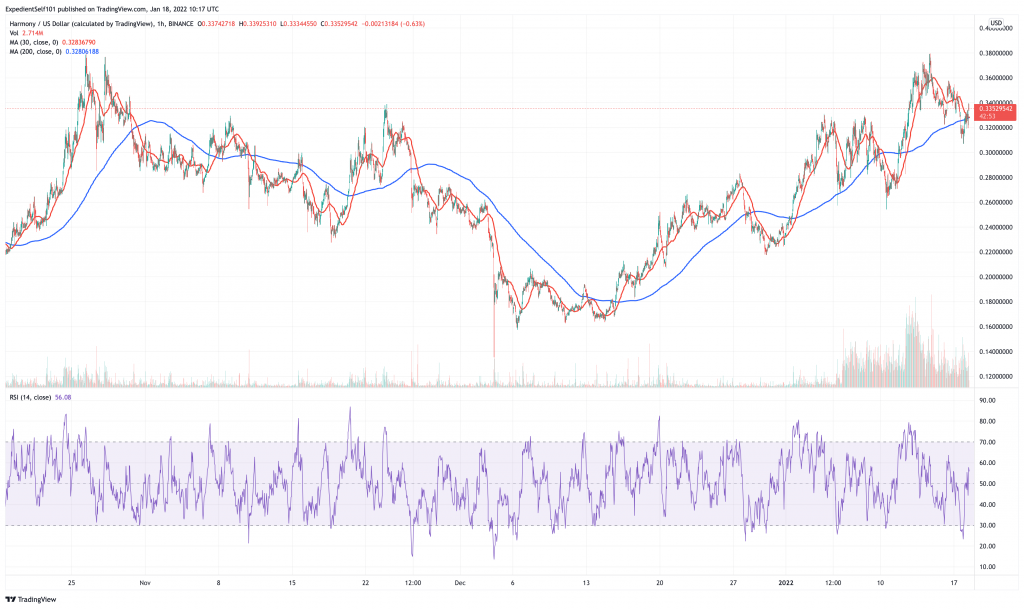 ONE's RSI shows that it has just begun a very sharp rally. Of course, how long it lasts is anyone's guess.
That said, there are plenty of fundamental reasons to be optimistic about ONE. As the native token of the Harmony blockchain, it has benefited from the growing use of its platform, which is a layer-one blockchain that also bridges to Ethereum and other networks. Most notably, Harmony's total value locked in has risen from about $500 million in mid-December to $1.23 billion today.
At the same time, Harmony continues to announce new launches, apps and integrations. Most recently, it rolled out the oneUSD stablecoin. This is something that will increase the liquidity of its ecosystem considerably, so expect rallies to follow its launch. This is why ONE is included in our 5 best altcoins to buy on low prices.
1/ We are excited to announce that the @harmonyprotocol backed stablecoin oneUSD is going live! 🤩

The #ONEUSD stablecoin will be available for users on the #HarmonyOne mainnet from 11:11 PM PST today.📅https://t.co/119etzmTUT

— Harmony 💙 (@harmonyprotocol) January 17, 2022
Capital at risk
Read more: