The metaverse has managed to take over everything tech-related – even crypto. Investors are now looking for the best metaverse crypto to buy as they hope to capitalise on the recent craze around metaverses and virtual worlds.
As expected, several crypto projects have already stepped into the metaverse and are building their worlds. Here's a rundown of some of the most promising:
1. The Sandbox (SAND)
Kicking off our list of the best metaverse crypto is SAND – the native token for The Sandbox game. The Sandbox is a user-generated, play-to-earn game that seamlessly meshes decentralised finance (DeFi), blockchain technology, and non-fungible tokens (NFTs) – all in a 3D metaverse.
Players build a virtual world on the Ethereum blockchain in The Sandbox using NFTs. Players can build their custom avatars and enjoy access to several games and environments in The Sandbox metaverse. Think of The Sandbox as Minecraft, but rejiggered for crypto and blockchain.
The Sandbox is successful partly because the asset has built its economy of tokens. The platform has an NFT marketplace where players can sell and monetise all virtual goods created. The platform's native token, SAND, also powers most functions – including interactions, transactions, and gaming rewards.
Currently, The Sandbox is one of the fastest-growing crypto gaming platforms globally. Last month, PwC Hong Kong, an international subsidiary of the global PricewaterhouseCoopers (PwC) financial services giant, purchased a plot of land in the gaming platform.
Also, The Sandbox recently announced that it plans to create a Mega City, focusing on contemporary cultural icons and the expansion of Hong Kong's trend culture into the metaverse. The platform has already signed on several popular partners, including actors, top investors, and other notable people in Hong Kong.
All of these and more point to growth for The Sandbox – and, by extension, SAND. As the market looks to turn bullish again, SAND looks like a good buy.
2. Decentraland (MANA)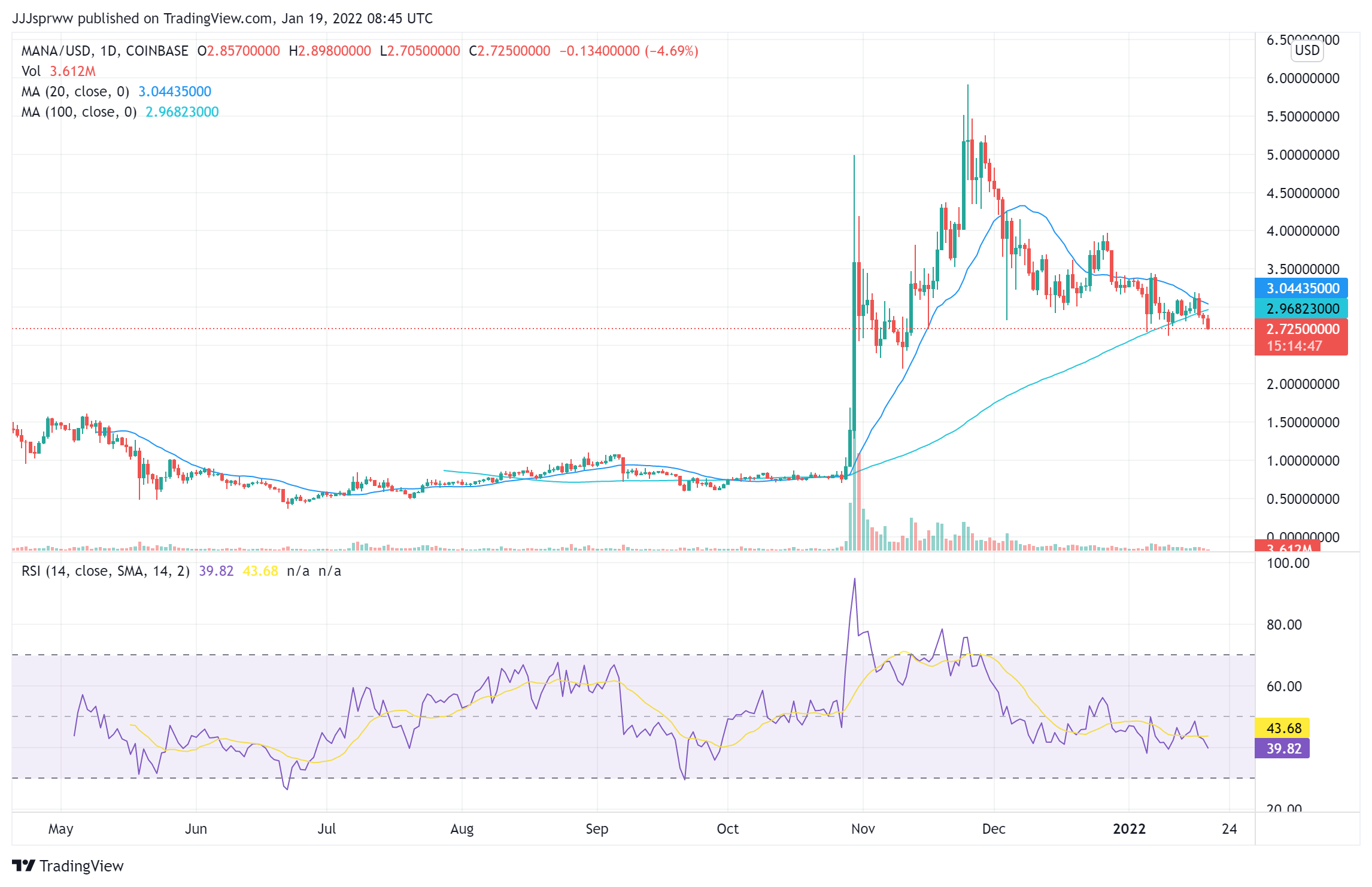 Decentraland is another metaverse platform that has got investors excited. Built on Ethereum, the platform opens users up to a digital world where they can buy and sell digital real estate while playing games and exploring the environment.
While Decentraland started with real estate, the platform soon changed and began implementing interactive apps, in-game payments, and even communication between users.
Decentraland runs on two tokens – LAND, an NFT used to show ownership of parcels of land in the metaverse; and MANA – a digital asset used to purchase LAND and other goods and services in Decentraland.
Like The Sandbox, Decentraland has grown due to increased attention in the metaverse and its network of partners. This week, the platform signed a partnership with the Australian Open to host the tennis Grand Slam event in its metaverse. Also, consumer electronics giant Samsung recently signed on to open a replica of its iconic New York store in Decentraland.
Decentraland's growth is definitely exciting – especially for a coin that only became prominent last year – and it should encourage investors to buy MANA. When the market gets bullish again, this is one asset you want to look out for.
3. Axie Infinity (AXS)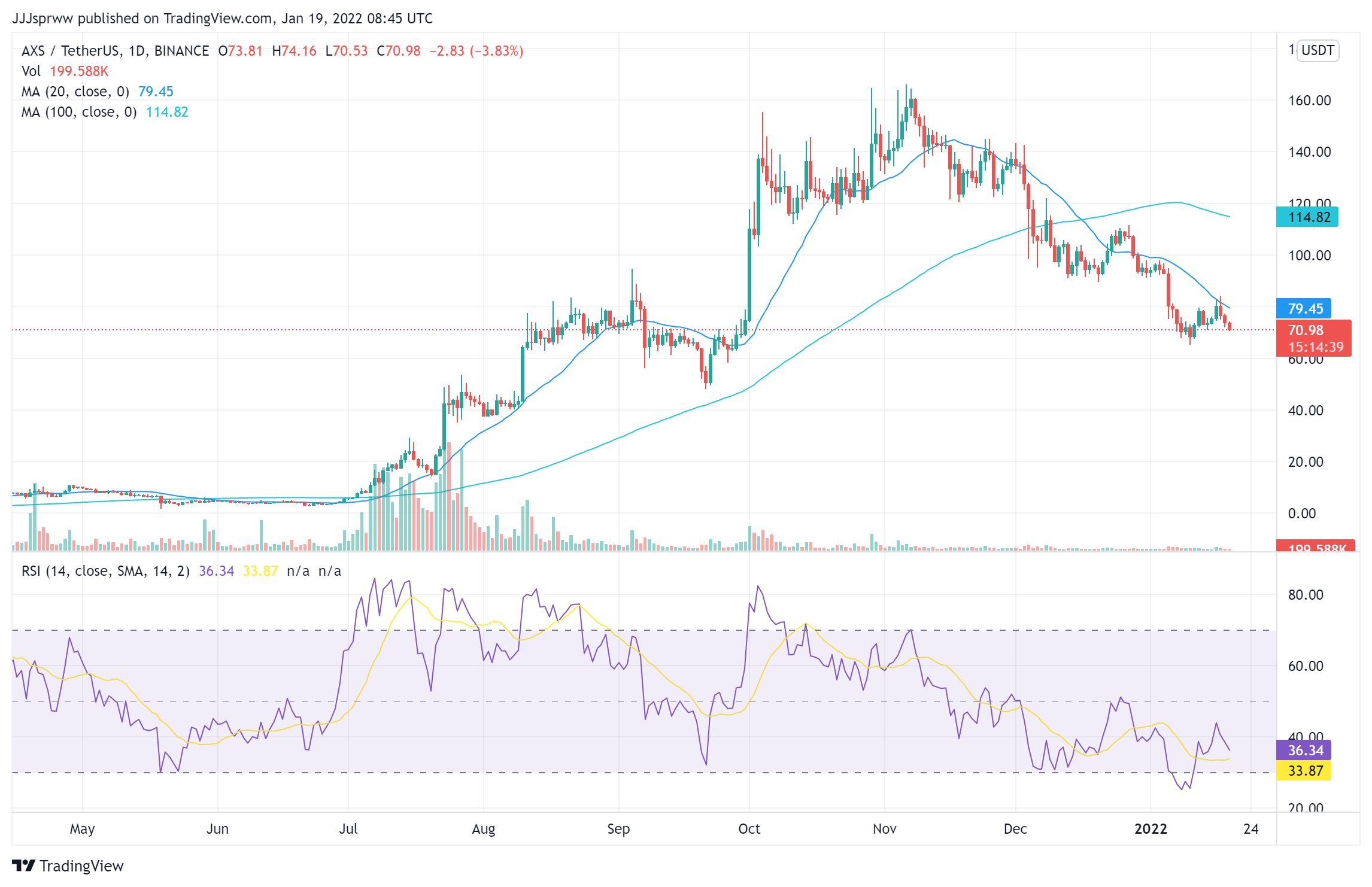 Arguably the most popular blockchain game in the world right now, Axie Infinity has already become a giant in the metaverse space. Its native token, AXS, is one of the best metaverse coins to buy right now.

Axie Infinity is set in a virtual world where players raise digital pets – known as Axies – and battle them with each other. Each Axie is an NFT, and you level up in the game by defeating other Axies in battle.
Like Decentraland, Axie Infinity has two tokens in its ecosystem – Smooth Love Potions (SLPs), used for breeding Axies, and Axie Infinity SHards (AXS) – the platform's governance token and the medium for conducting transactions within the ecosystem.
Axie Infinity is also successful because it has capitalised on its in-app marketplace. Players can trade Axies and other in-game items they win in the marketplace, thus creating an economy that sustains itself.
Considering that it combines NFTs and the metaverse (two of the hottest tech trends), Axie Infinity is one platform to look forward to in 2022.
4. Enjin Coin (ENJ)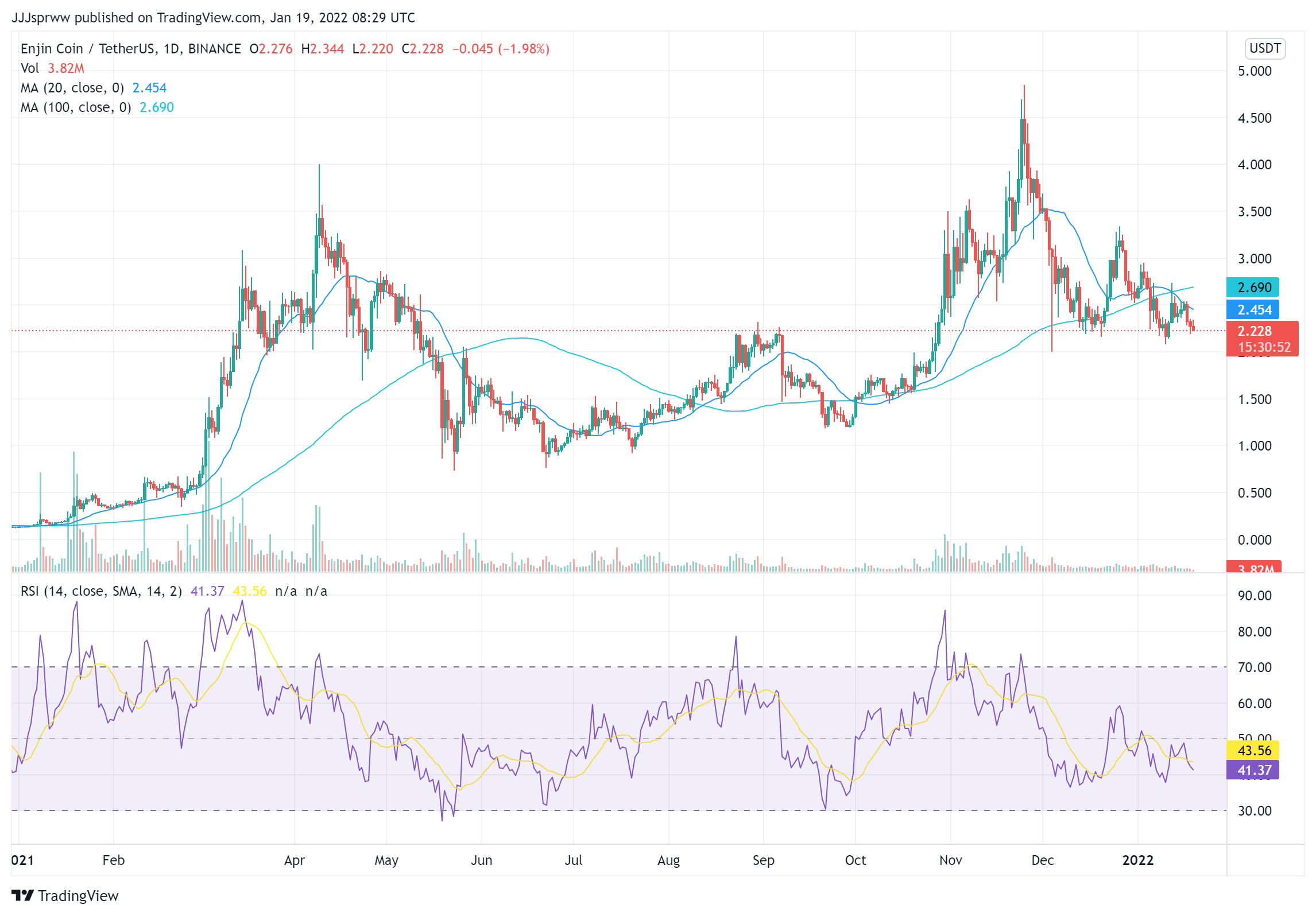 ENJ comes next on our list of the best metaverse crypto to buy. The asset powers the Enjin metaverse – a software that allows developers to create and manage virtual goods.
Also built on Ethereum, Enjin believes that blockchain technology can help improve the management of in-game items across several properties. Enjin touts its low fees and improved security, claiming that it can optimise the process of transferring in-game collectibles and other items.
There's not much in terms of fundamental news on Enjin. However, ENJ looks quite good technically. The asset's price of $2.28 is just a drop of 1.5% in the past 24 hours – beating the market's performance of -3.5%.
ENJ is also trading quite close to its 100-day simple moving average (SMA) of $2.7. With a dropping relative strength index (RSI) of 41.29, ENJ is slightly underbought.
5. Gala (GALA)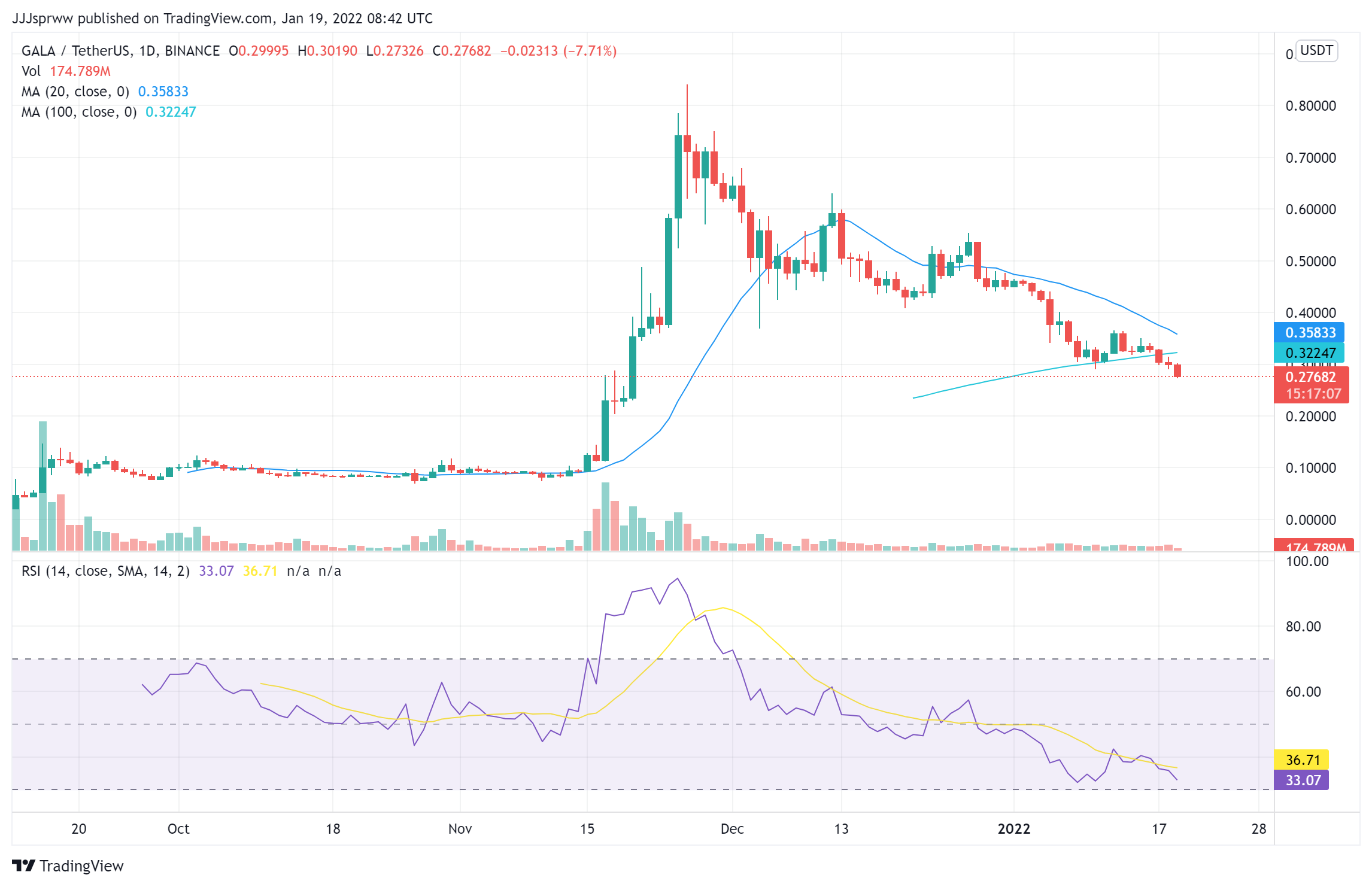 Rounding out our list of the best metaverse coins to buy is GALA – the native token for the Gala ecosystem.
Gala is a blockchain game founded back in July 2019. It uses NFTs and the metaverse to create a gaming ecosystem where players can own and trade assets on a global scale. The platform is looking to make gaming better for players,
GALA is the native token for the ecosystem. It is used for governance, incentivising node operators on the network, and in-game rewards for players who enjoy the games. GALA is also used as an in-game asset for players to buy assets and NFTs in the Gala store.
Like Enjin, Gala doesn't have much fundamental news. But the coin looks pretty strong so far. It is down 8% in the past 24 hours, trading at $0.27. But, the coin is fighting to reclaim its 100-day SMA of $0.32, and its 33.07 RSI shows that it is approaching the underbought level.
Read more: