The crypto market is showing mixed performances this week, but investors are still rushing to find the next meme coin cryptocurrency to explode. Meme coins are susceptible to significant price volatility. This characteristic makes them a perfect asset class for investors who want to enjoy quick gains.
Out of the multitude of meme coins in the market, some have been able to stand out. Below are some of the best meme coins to buy for gains this week.
1. Dogecoin (DOGE)
Dogecoin is unsurprisingly the top pick on our list of the next meme coin cryptocurrency to explode. The asset has been the leading meme coin in the market for as long as there have been meme coins – save for a few weeks when Shiba Inu (SHIB) toppled its market cap.
2022 is poised to be an interesting year for Dogecoin. The Dogecoin Foundation appears to have gotten fed up with the asset strictly being known as a meme coin, and they're now looking to introduce new use cases for the asset.
First on the list is Tesla, whose chief executive Elon Musk is a big DOGE fan. Last week, Musk made good on his promise to allow Dogecoin payments for Tesla merch. The official Tesla store now accepts Dogecoin payments for its merchandise, marking the beginning of Dogecoin's foray into payments.
Musk has already touted Dogecoin's compatibility with everyday payments, and this play from Tesla will give the world a great first opportunity to test this. It also helps that in the 24 hours after Tesla started accepting DOGE payments, the coin's price jumped by 25%.
The Dogecoin Foundation has also confirmed that it will work with Ethereum co-creator Vitalik Buterin to bring staking to Dogecoin. The prospect of staking is interesting, and it is sure to drive value for DOGE investors.
2. Shiba Inu (SHIB)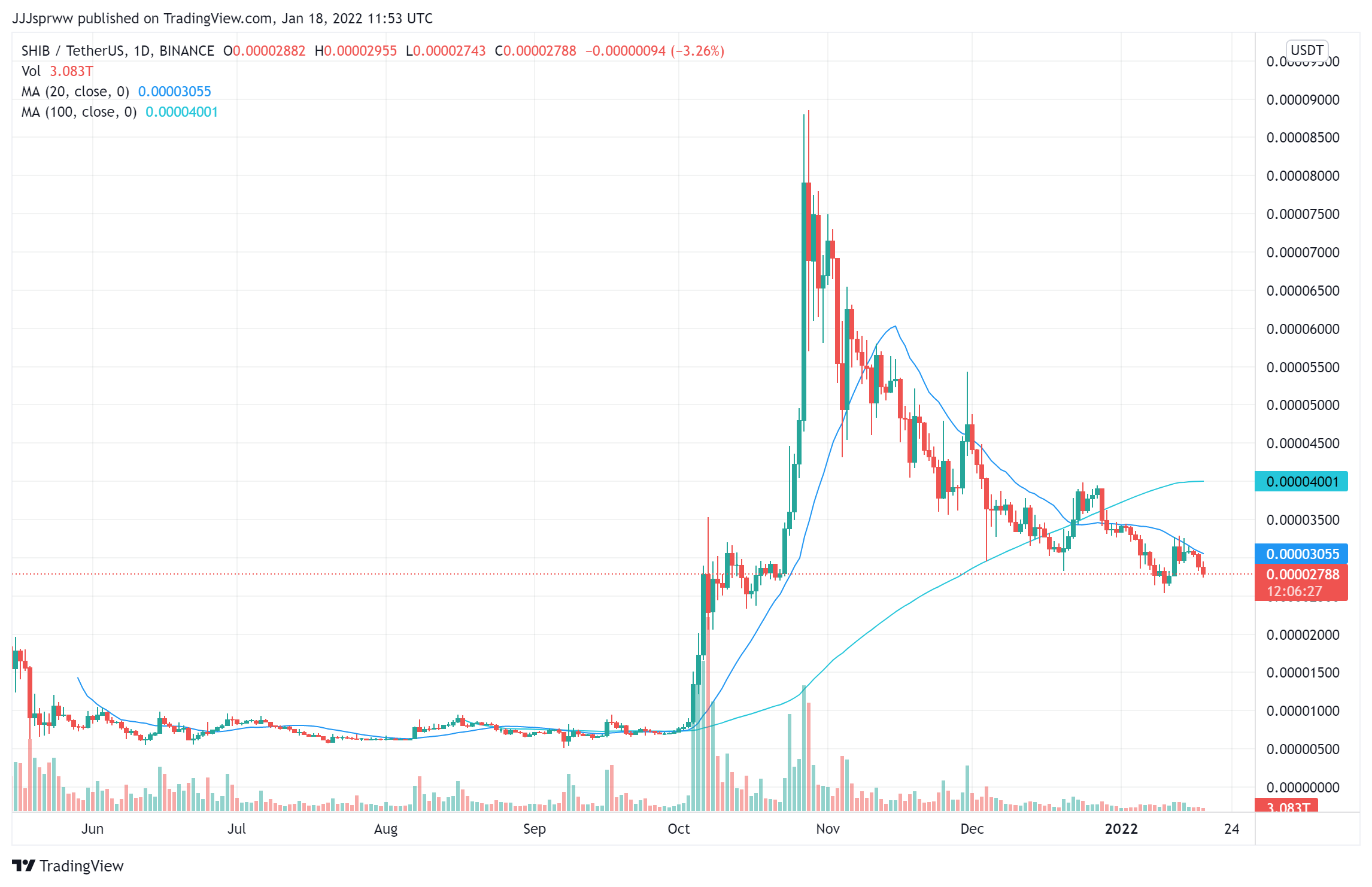 If there's any meme coin that can dethrone DOGE in the near future, it's Shiba Inu. The self-proclaimed "Dogecoin killer" has had an even more impressive track record than DOGE, becoming one of the top 15 most valuable cryptocurrencies despite being less than a year old.
Before the market rout, SHIB entered CoinMarketCap's top 5 coins. The asset successfully beat DOGE's market cap for about a week. So, SHIB is no joke.
Currently, SHIB's price is trading near three-month lows. However, there is still value in its price. It is about to reclaim its 20-day simple moving average (SMA) of $0.00003046, which should give it enough strength to challenge the 100-day SMA of $0.00004001.
There is also excitement that SHIB could get listed by Robinhood – the popular stock and crypto trading app. These rumours and the fact that more people have been holding SHIB in the past two months should encourage a price jump.
If investors continue to keep SHIB in their wallets, it could be a sign that they believe its value will surge soon. If history is anything to go by, this could be prime for some big moves when the bull market returns.
3. Dogelon Mars (ELON)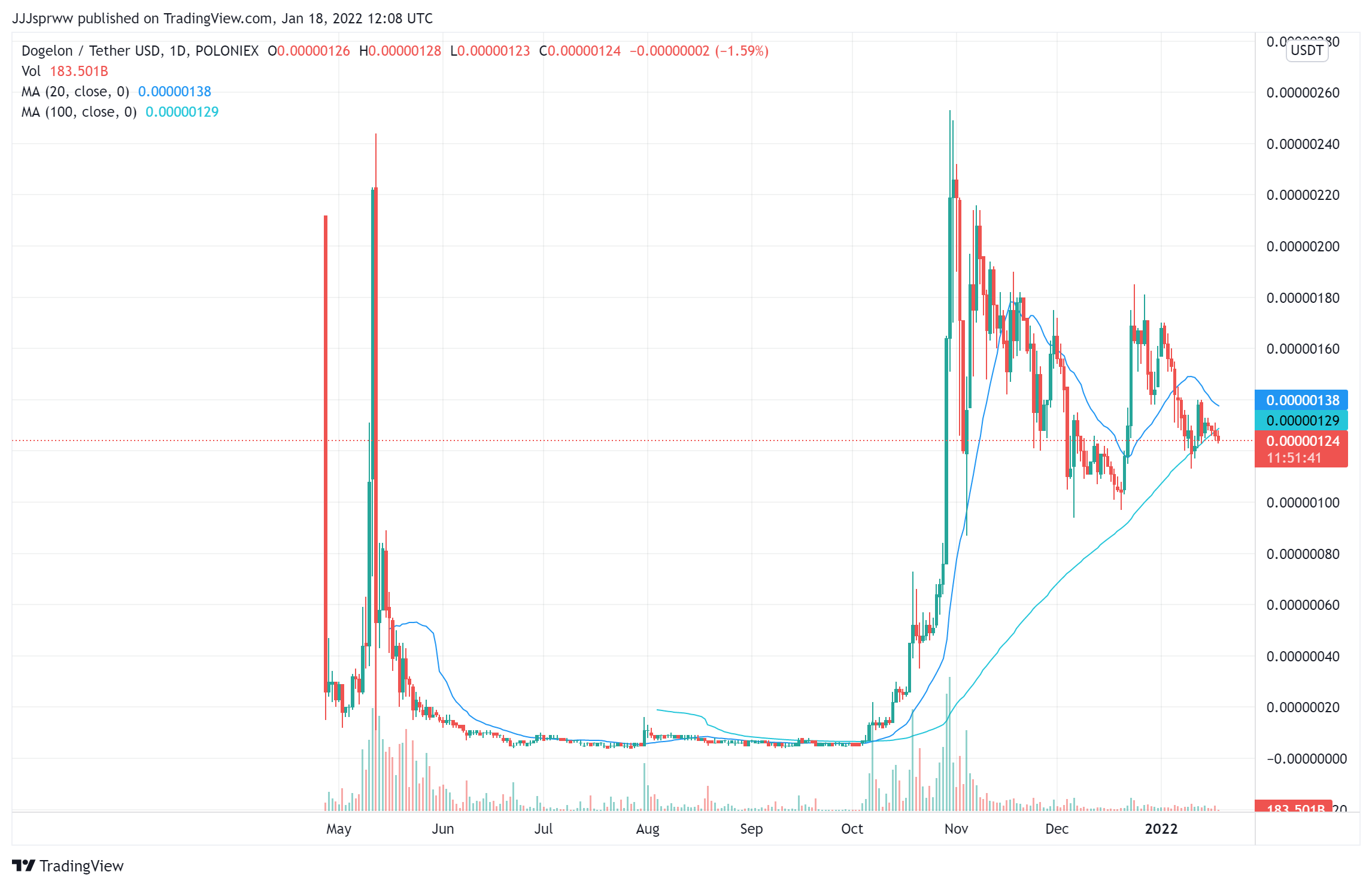 Dogelon Mars is the next meme coin cryptocurrency to explode on our list. The meme coin was named as part of an amalgamation of Dogecoin, Elon Musk, and Mars.

Launched in April 2021, Dogelon Mars has had a bit of a rougher journey than Shiba Inu. But, the coin has still grown over 1,000% since it launched and has delivered pretty impressive returns for its earliest investors thus far.
Like most meme coins, Dogelon Mars doesn't have much news. What the asset does have, however, is strong technicals. The asset has managed to outperform the broader crypto market, with its current price of $0.00000124 being just a 1.50% drop in the past 24 hours – compared to the market's drop of 2.55 in the same period.
ELON is also trading close to its 100-day SMA of $0.00000130, and its relative strength index (RSI) of 44.86 shows that it is still relatively underbought. ELON is a good option if you're looking for a promising meme coin.
4. MonaCoin (MONA)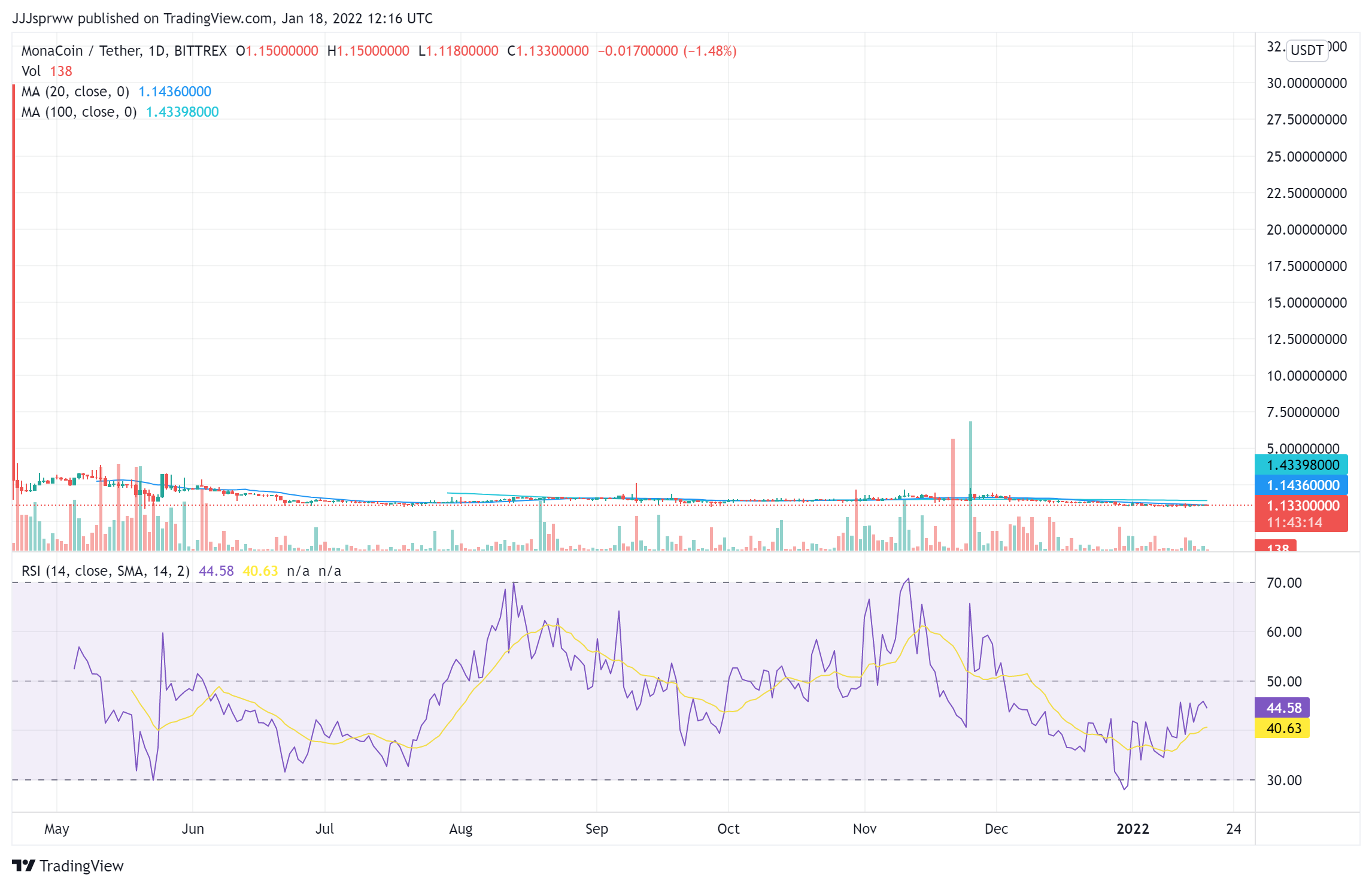 MonaCoin is the first entry on our list of the next meme coin cryptocurrency to explode that isn't dog-themed. Launched in Japan, the asset has been able to gain a pretty strong foothold in its home country.
Among other things, Japanese people love MonaCoin because it was created there. The asset has been used a few times to make payments, but it has since receded into the background as bigger names like Bitcoin (BTC) and Ether (ETH) continue to penetrate the Japanese market.
While it might not be popular, MonaCoin is the only asset on this list to be pegging gains at the moment. The coin's price of $1.13 is a gain of 0.39% in the past 24 hours and 1% in the past week.
Despite its jump, it will take quite a feat for MONA to hit its 100-day SMA of 1.43. But, with an RSI of 44.58 and a positive moving average convergence divergence (MACD), the asset appears to still be in a buy zone.
5. Floki Inu (FLOKI)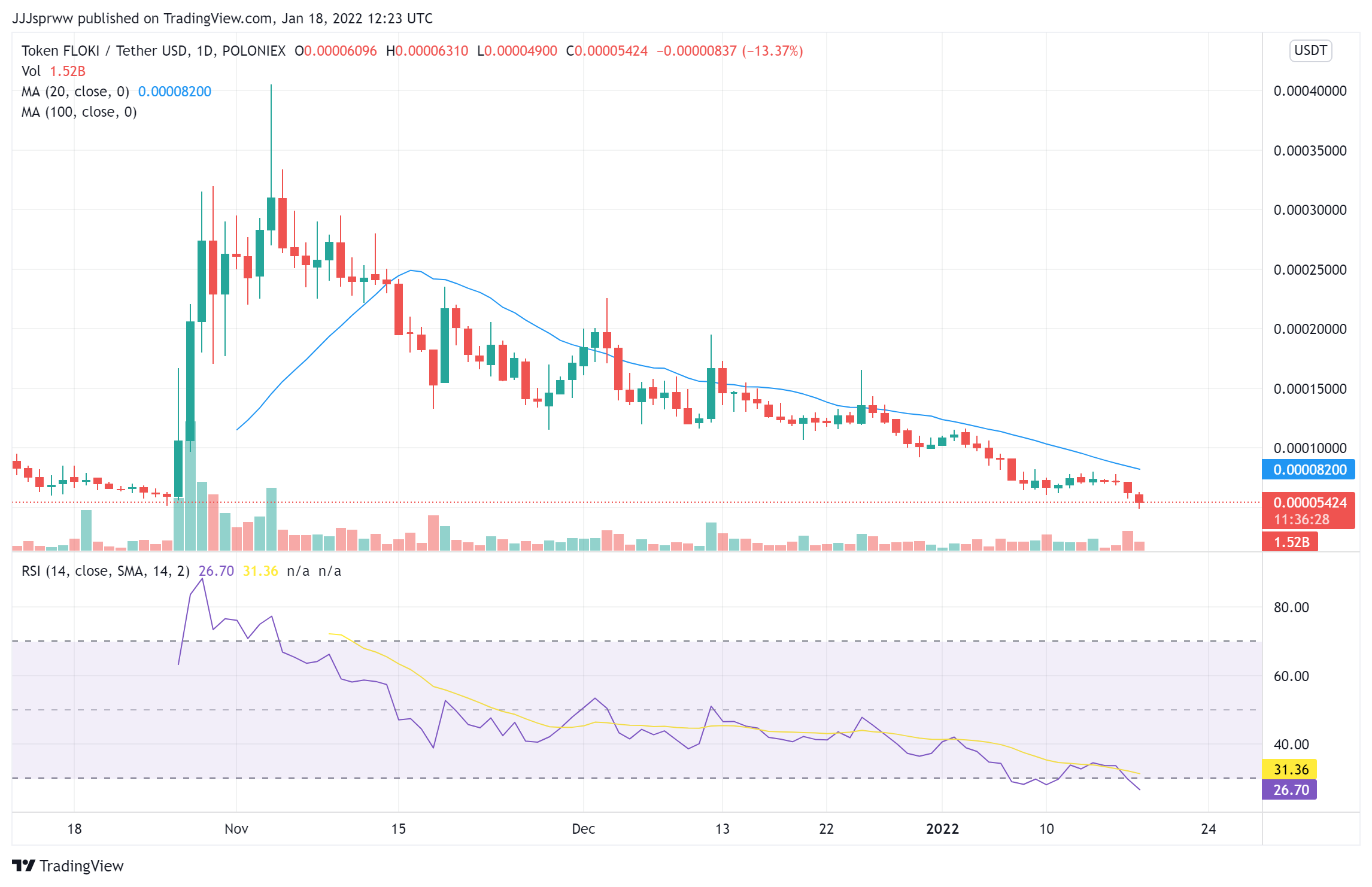 With FLOKI, we're back to dog-themed meme coins. Rounding out our list of next meme coin cryptocurrency to explode, Floki Inu was launched in June 2021 to homage to Elon Musk's pet Shiba Inu dog, Floki.
FLOKI's performance hasn't been so great of late. The asset is down 255 in the past 24 hours, with investors selling off as fears of another bearish cycle for the broader crypto market appear to have taken hold.
Despite the drop, FLOKi still has some value. Last year, its developers partnered with SSC Napoli – one of the top football clubs in Italy for a shirt sponsorship deal. So at least, we know they plan to be around for a while.
If you missed out on DOGE and SHIB, FLOKI just might be the next meme coin train!
Read more: