The cryptocurrency market has taken a big hit overnight. A combination of Russia crackdown plans and continued risk-aversion has sent its total cap down to $1.95 trillion. This represents a 7% drop in 24 hours, with big coins such as bitcoin (BTC) and ethereum (ETH) falling by similar margins. However, with the market suffering such a sharp and steep drop, it could be in for a rebound over the weekend. As such, we've put together a list of 5 cryptocurrency that could see a price boom this weekend.
These 5 Cryptocurrency Could See Price Boom This Weekend
1. Bitcoin (BTC)
BTC is down by 6.7% in 24 hours, having fallen below $40,000 for the first time since early August. At $39,062, it's also down by 8% in a week and by 20% in a month.
BTC's indicators unsurprisingly show a sharp dip. Its relative strength index (in purple above) has fallen below 30. This suggests that, based on recent price movements, it's oversold. Likewise, its 30-day moving (in red) is falling further below its 200-day average. This could mean it will soon reach a bottom.
And if it does, it could bounce back strongly. Bitcoin is one of the prime candidates to do this, if only because it generally leads market movements. It has also witnessed more institutional interest and investment than any other cryptocurrency. Meanwhile, its use in nations such as El Salvador, Turkey and Nigeria shows that it has big potential in territories lacking in a stable fiat currency.
This is why it's a relatively safer bet during a bear market, and why it's among our 5 cryptocurrency that could see a price boom this weekend. It can be bought on pretty much any major trading platform.
2. Ethereum (ETH)
At $2,891, ETH is down by around 7.7% in the past 24 hours. It's also down by 11% in a week and by 28% in a month.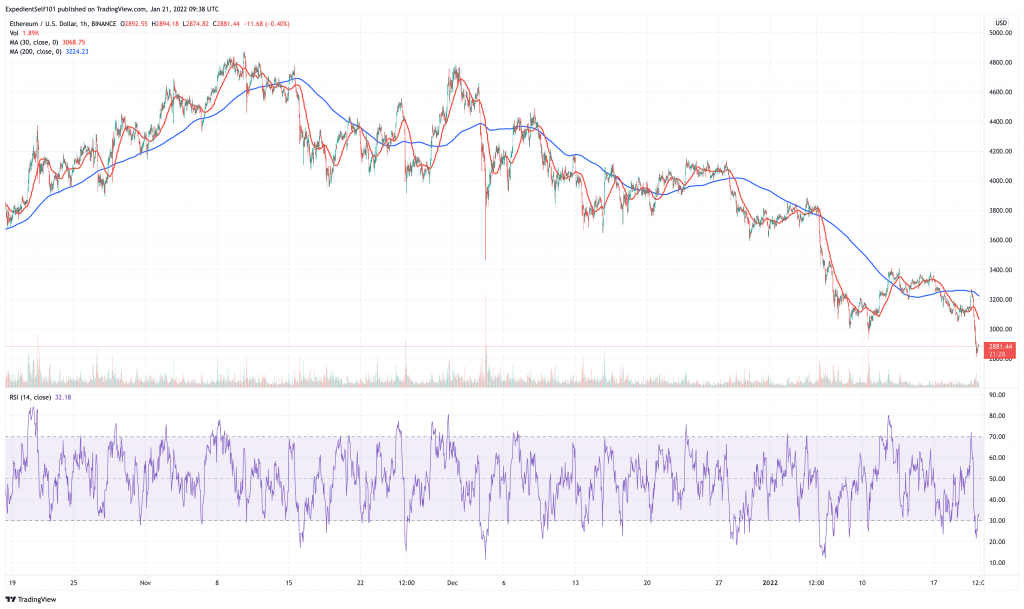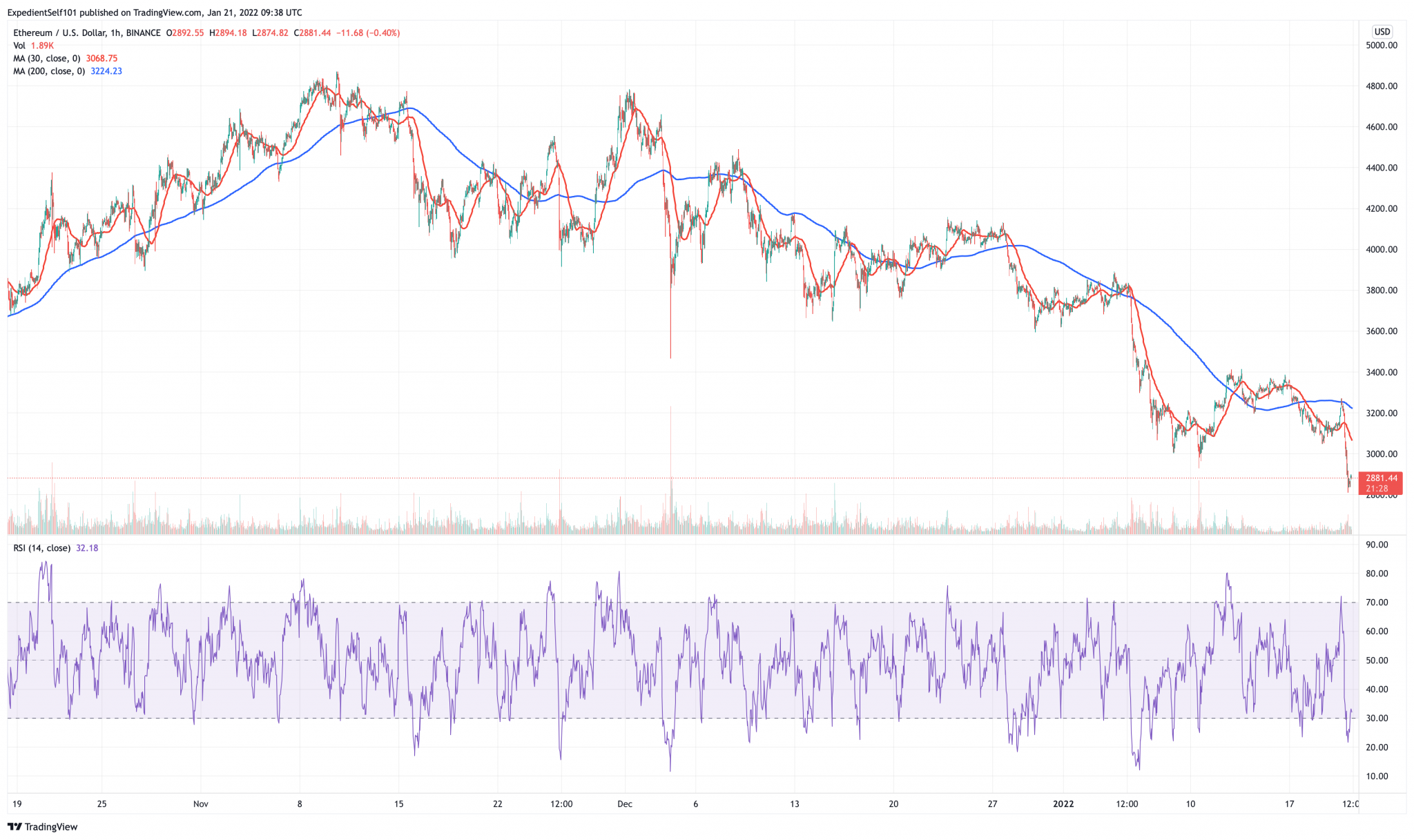 ETH's technicals are much like BTC's, which isn't a shock when the entire market has suffered a dive. In other words, it's close to nearing a bottom, which may be good for anyone hoping to buy it cheap, and just before it bounces back.
And as with BTC, ETH has some of the strongest fundamentals of any cryptocurrency. Its total value locked accounts for over 60% of the DeFi sector, at around $131 billion. It continues to dominate in terms of the numbers of apps and users using its blockchain, and is likely to continue doing so for the foreseeable future.
2021 also saw it become deflationary, with the London upgrade resulting in it burning a portion of transaction fees. And with the approach of Ethereum 2.0 and staking, it could see further supply squeezes in the future. This is why it has a good chance of bouncing back.
Ethereum can be traded nearly everywhere.
3. Theta Fuel (TFUEL)
Pretty much every major cryptocurrency is down in the past week. One rare exception, however, is TFUEL. It's down by 5.4% in the past 24 hours, but still up by 7% in the past week, at $0.183449.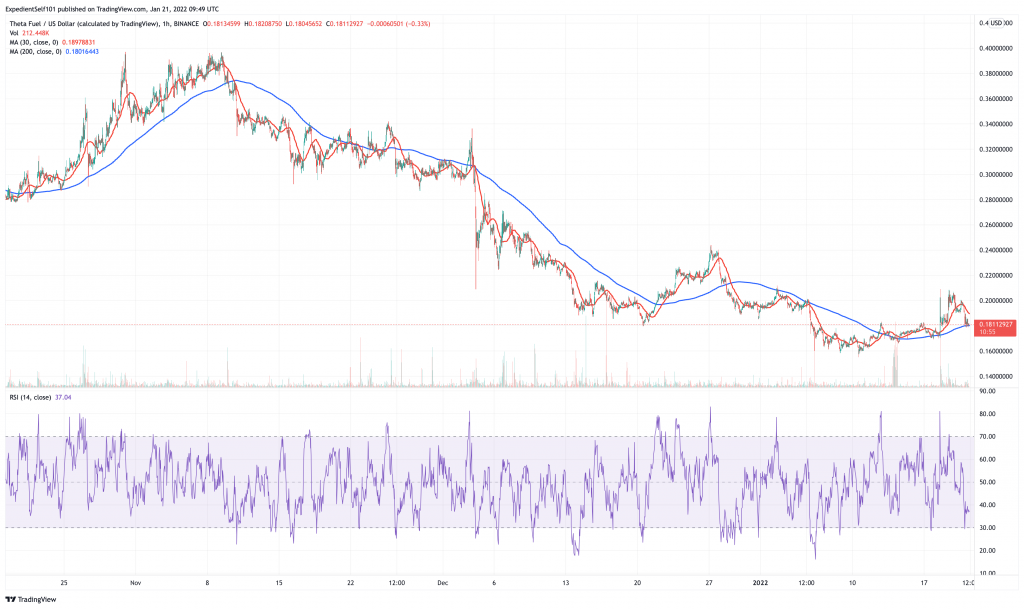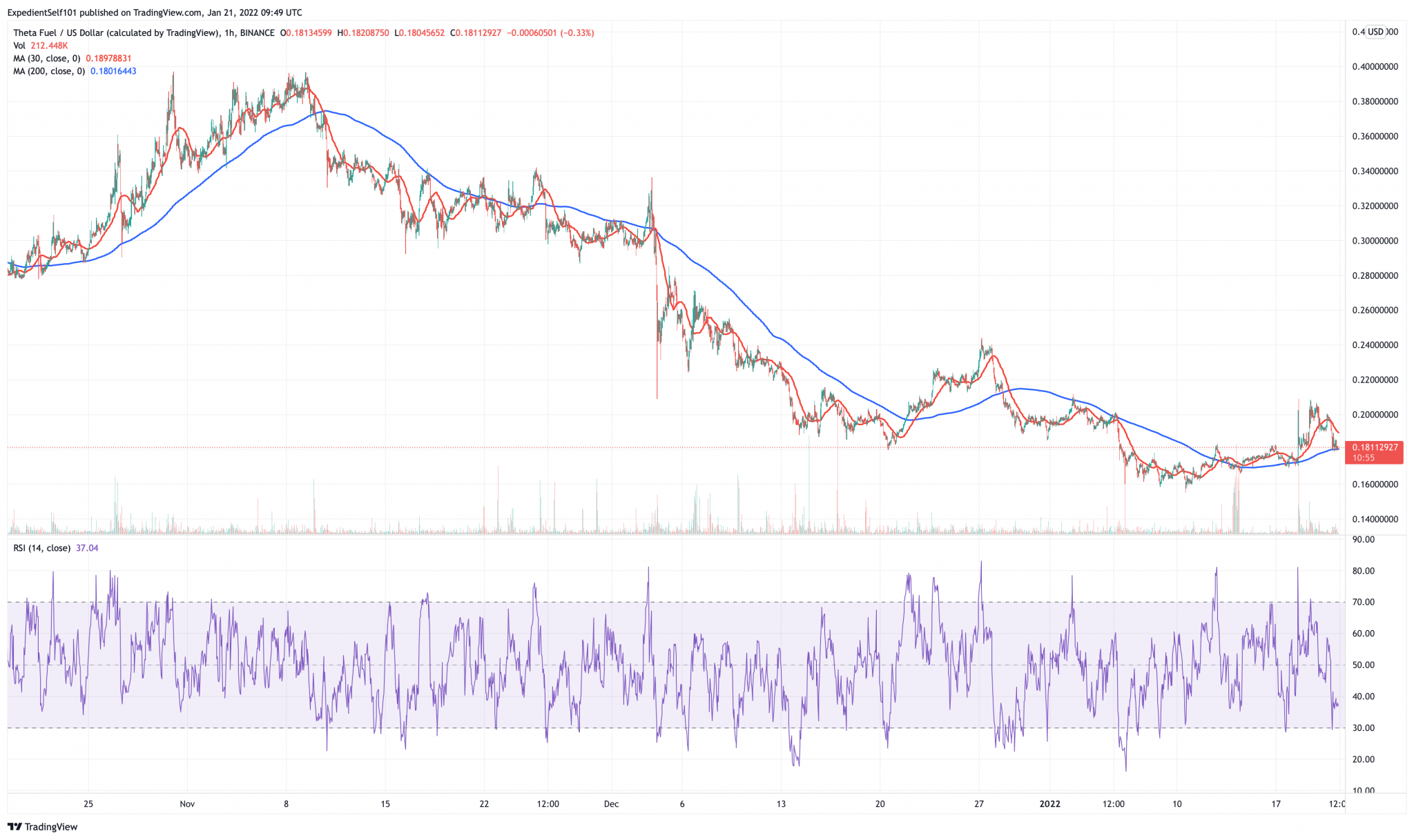 TFUEL's technicals show that it has suffered a dip in the context of a rally. Its RSI has climbed down from 70 to nearly 40, giving anyone who wanted to enter its market a chance to buy it more cheaply. It's 30-day average remains above its 200-day, suggesting that today's fall may not have scuppered its recent momentum.
As a blockchain-based video-streaming platform, Theta has been rallying for a couple of reasons. To begin with, it has welcomed a number of important collaborations and launches, with its link-up with the Curate NFT marketplace being one of the most recent.
The first part of the Theta x Curate collaboration is complete with THETA/TFUEL payments live on Curate marketplace! Next up is Theta NFTs tradable cross-chain in the Curate app – check it out in iOS/Android or at https://t.co/1TTgrKsnGb https://t.co/REnaC3en8i

— Theta Network (@Theta_Network) January 18, 2022
More importantly, on February 1 its much-anticipated ThetaDrop NTF marketplace will launch. An airdrop of new TDROP tokens will take place to coincide with the release, with investors able to participate by staking TFUEL. And because TFUEL is necessary to participate, it has been rising over the past few days. This is why it's included in our pick of 5 cryptocurrency that could see a price boom this weekend.

TFUEL is available for trading on Binance, Upbit and Crypto.com, among others.
4. Cardano (ADA)
ADA has fallen by nearly 9% in the past 24 hours, to $1.23. This means it has also fallen by 3.8% in the past month, while it's basically flat in the past week.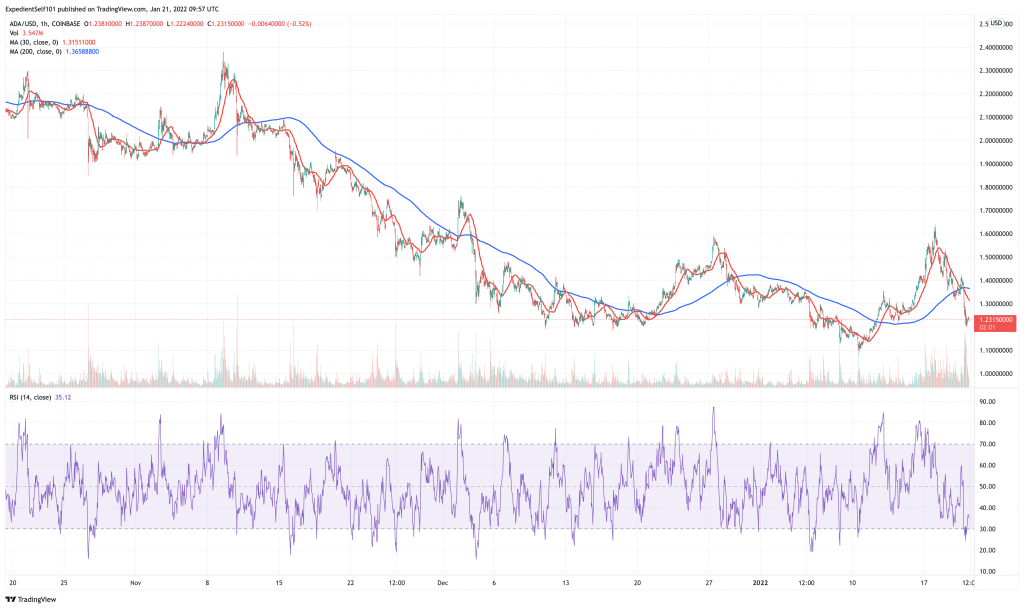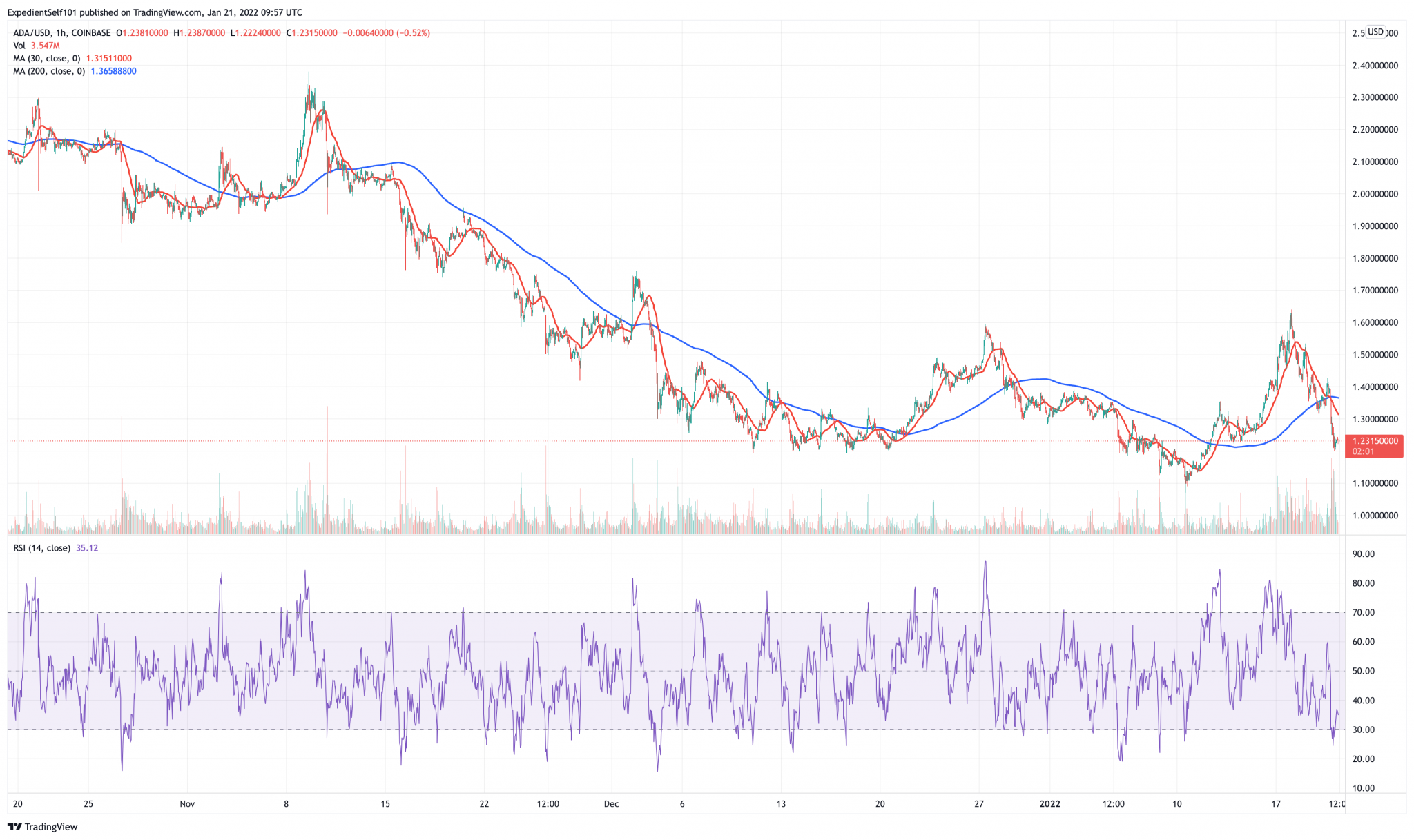 ADA had been doing well prior to yesterday's dive. However, with its RSI dropping to 30 and its 30-day average falling below its 200-day, it may hit a bottom soon.
Recent movements suggest that ADA will be one to watch when the market begins recovering. It had reached a one month-high on Tuesday, largely because Cardano has seen an increase in the number of apps and projects launching on its platform.
We can expect significant network traffic around the launch of new #DApps, especially in the early days. And especially around the most hotly anticipated new #DeFi launches, with many coming soon.
🧵1/7

— Input Output (@InputOutputHK) January 7, 2022
More fundamentally, ADA is due a big rally in the not-too distant future. It rolled out smart contracts in September, and since then its ecosystem has been steadily developing. Indeed, it has now registered some total value locked in: $3.3 million. Yes, this figure is very small compared to other ecosystems, but given that it stood at $0 only a couple of months ago, it suggests that Cardano's DeFi ecosystem could grow quickly in 2022 and the year's beyond.
Multiple #DeFi & #DApp projects have begun testing & will soon deploy on #Cardano. It is as exciting as it is hard to follow.

To help you keep track of who is #BuildingOnCardano check this ecosystem map by the @CardanoCube team and be sure to visit👇👏https://t.co/3RSAGRLZ5K

— Input Output (@InputOutputHK) January 6, 2022
Cardano can be traded on most major crypto-exchanges.
5. The Sandbox (SAND)
SAND is down by 12% in the past 24 hours, having sunk to $3.78. This is also a 22% drop in the past week and a 27% fall in the past month.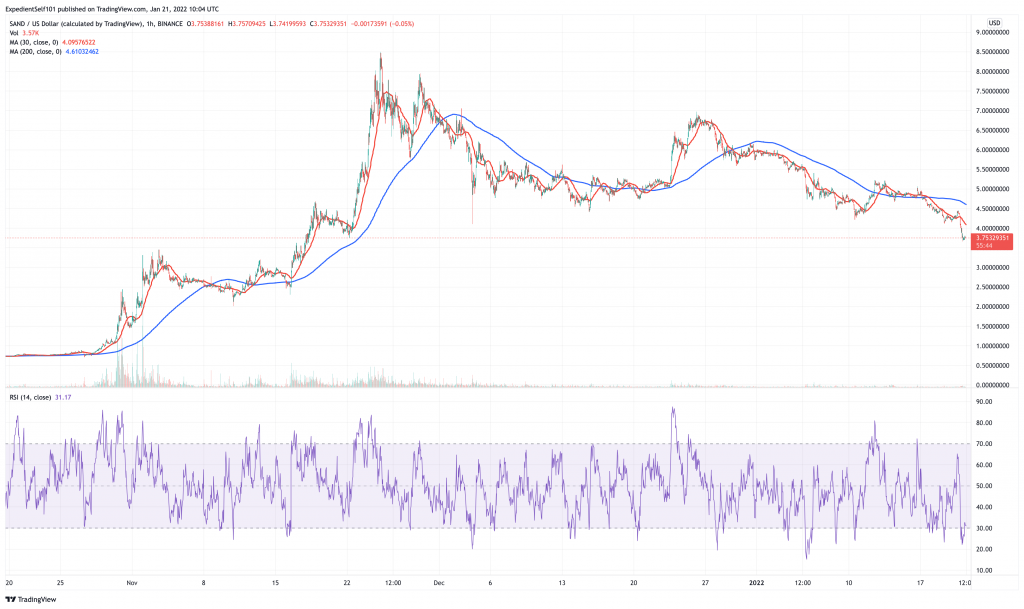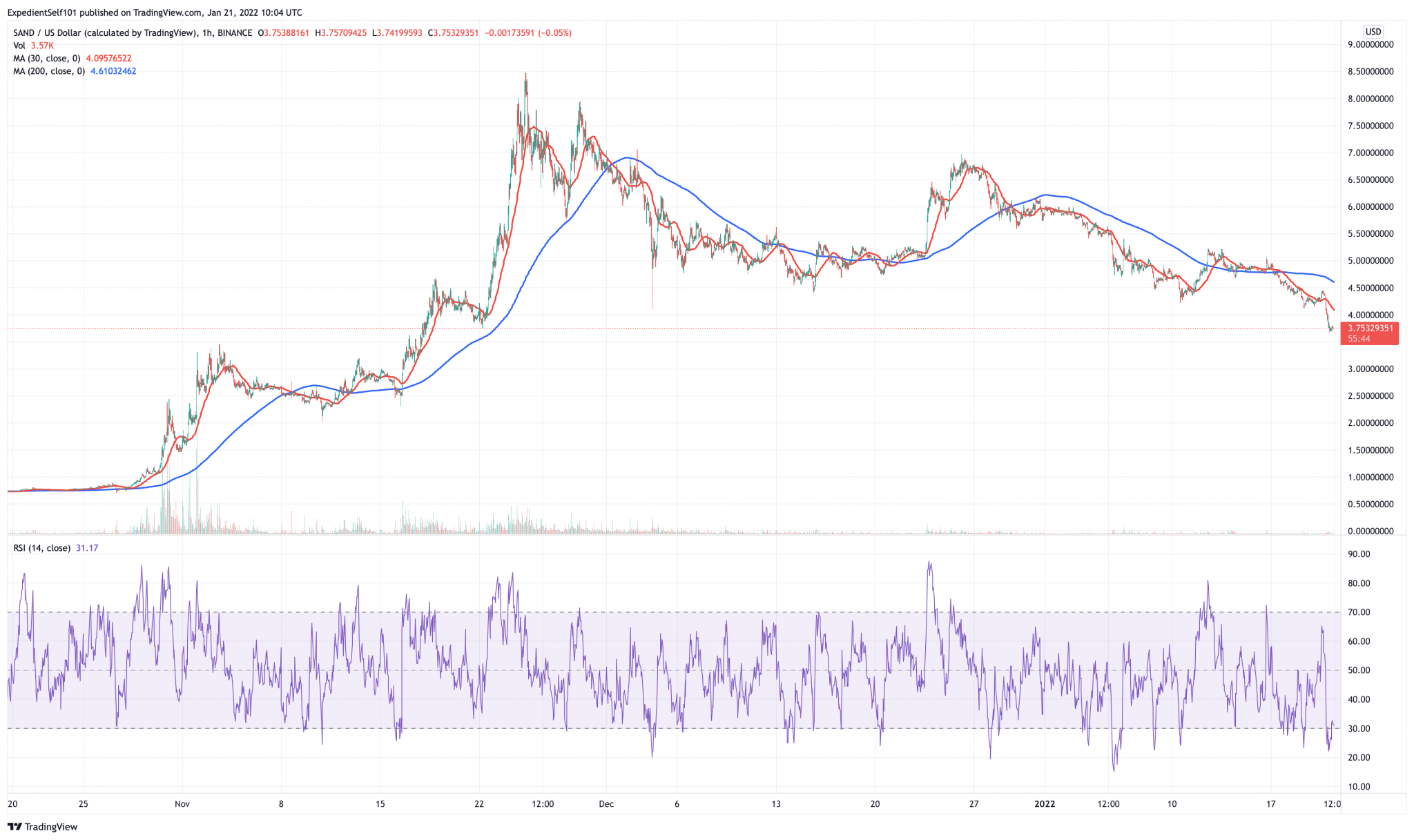 SAND's RSI has also hit near-rock bottom, at 30. It may be very close to its bottom, although with the wider market going through a bearish period we can't be sure when exactly this may arrive.
Still, SAND is a very promising altcoin. Its native blockchain, the NFT-based gaming platform Sandbox, offers some sound fundamentals. It had a very strong 2021, selling one plot of land for $4.3 million at the start of December. It also turned over $86 million in land sales in the last week of November alone, more than any other metaverse-related platform, including Decentraland.
And with a $93 million raise from major VC fund SoftBank at the beginning of November, it has the financial capacity to continue growing. This is why it's another cryptocurrency that could see a price boom this weekend.
The Sandbox is available for trading on eToro, Kraken, Binance, and many other major platforms.
Capital at risk
Read more: