For the crypto market, the adage "buy when there's blood on the streets" may never be truer. Only a few short weeks ago the Metaverse was touted as the next mega industry within the crypto sector. However, since that time, projects that were considered game-changers for the future of the Metaverse have had their prices ground into the dust. Is now a good time to buy?
It must always be borne in mind that crypto markets, as with all markets, go up and down. Just because stocks or crypto tokens are down large amounts, it doesn't necessarily mean that a reversal is just around the corner. 
However, with blood practically washing down the streets in the crypto market, those brave enough to buy now just may be getting themselves some bargains.
The Metaverse really burst onto the crypto scene with Mark Zuckerberg's announcement that Facebook would be rebranded to "Meta", and that it would be building out its own private Metaverse.
After that moment, the Metaverse tokens of many projects absolutely sky-rocketed. 
As with all new things though, there is a hype cycle, and it looks like all the Metaverse plays that were once being hyped to the heavens, are now suffering the downside of that cycle.
Render (RNDR) is one such project. Rendering graphics is extremely GPU intensive, and costly for having it done with an in-house rendering solution. Instead, a global network of GPUs connected to decentralised nodes can get the job done quicker, cheaper and more easily.
As can be seen in the chart above, price has retreated to $2.50, well down from its $8.80 high. This is a 72% correction and has touched support last made in March 2021. A bounce from here, also off of the 100-day moving average, might be likely.
Gala Games (GALA) has eight games so far on its platform. The network is run by a community of players who operate nodes that power the ecosystem. As with any truly decentralised Metaverse gaming platform, the players make the rules and decide in which direction Gala Games will go.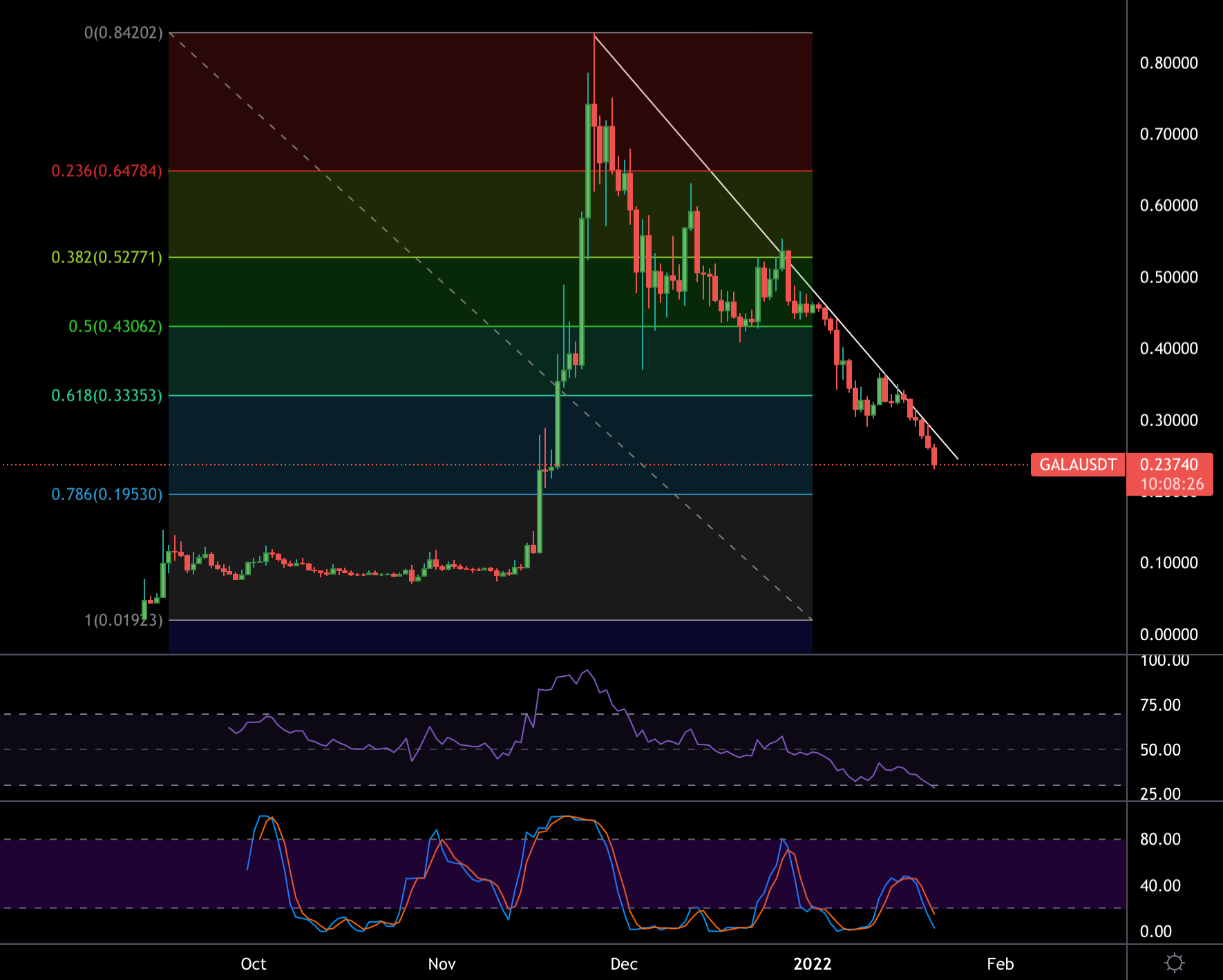 GALA could be viewed as another strong candidate for a reversal soon. A downward trend, since a high of $0.84 at the end of November, would be likely to turn around, given that the price is approaching the 78.6 fibonacci level, and the Stochastic and RSI indicators are both bottoming.
Yield Guild Games (YGG) is what is known as a guild. Guilds are part of the infrastructure of the gaming Metaverse. Yield Guild Games brings together players in the play-to-earn gaming sector. It provides funding (scholarships) for players and lends them equipment to help them win.
The guild also buys land and various other NFTs in several Metaverses, loaning them out in order to make yield for the guild members.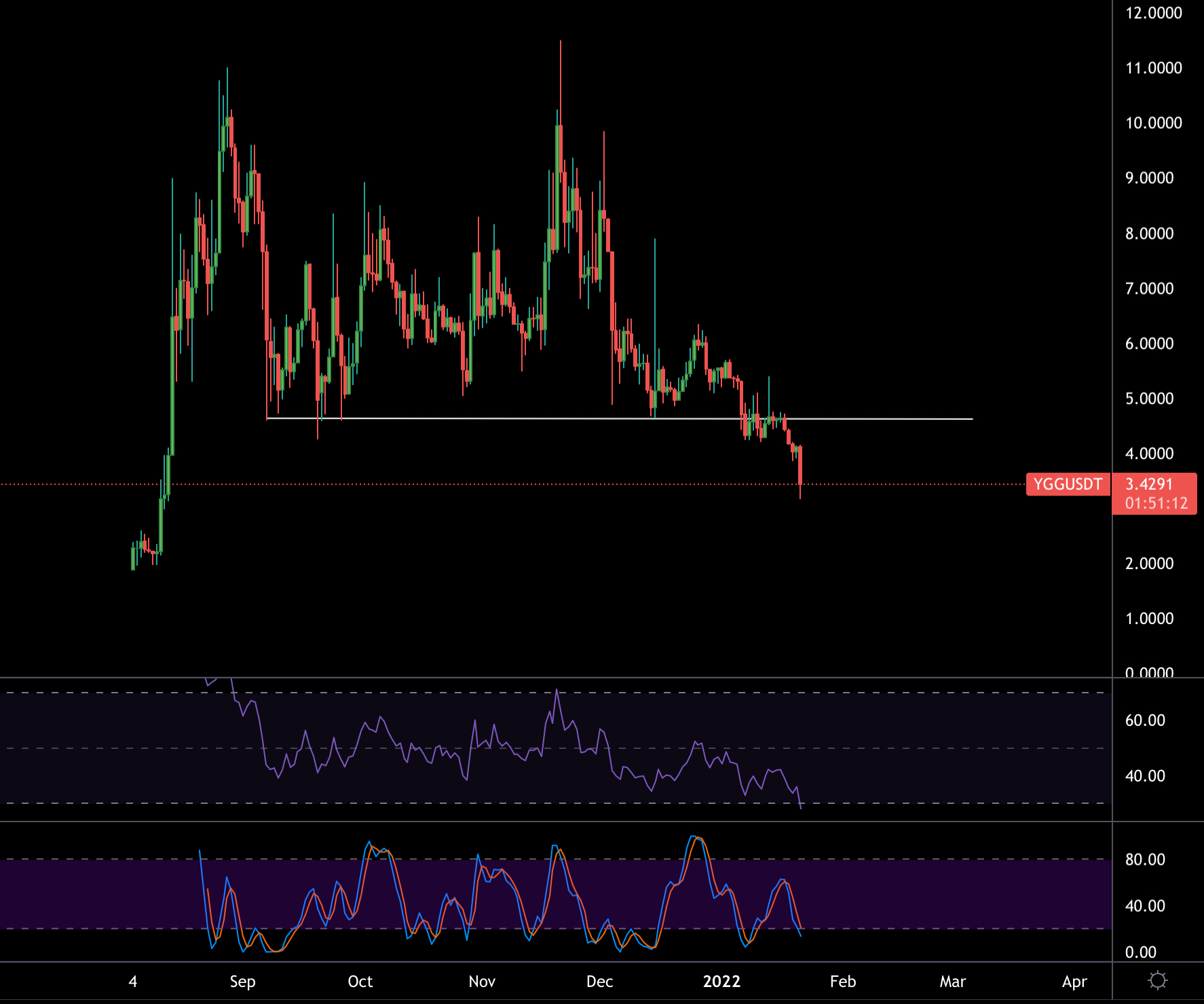 The YGG price has obviously dropped important support at the $4.60 level and it's not clear how much further it might drop. However, the RSI has entered oversold territory, and the Stochastic momentum indicator is on its way to a bottom.
Last message to investors
Crypto markets are incredibly volatile, and the price can drop quickly and drastically. Seeking expert advice before entering the market is a recommended strategy. Only put in the value that you are willing to lose.
Disclaimer: This article is provided for informational purposes only. It is not offered or intended to be used as legal, tax, investment, financial, or other advice.