Despite the fact that they became mainstream over a year ago, non-fungible tokens are still all the rage right now. But, if you can't splurge six figures on a CryptoPunk or a Bored Ape, you can still invest in popular NFT cryptocurrency this February 2022.
Below, you can find some of the best NFT coins to invest in today and enjoy massive gains.
Axie Infinity (AXS)
AXS kicks off our list of popular NFT cryptocurrency to invest in. The asset has come a long way, thanks in no small part to the popularity of Axie Infinity/
Axie Infinity is a blockchain game where players breed digital pets – known as Axies. Every player gets to breed and grow their pets, and you eventually battle them against those of other players. The more you win, the more benefits you win.
Axie Infinity became popular because of these Axies themselves. They are NFTs, and you can trade them with other players through the i-game Axie Infinity marketplace. AXS acts as the native token for Axie Infinity, and it underpins the system, allowing holders to vote on developments and more.
With Axie Infinity blowing up last year, AXS was on a rocket ship. The platform is now on an expansion play, and we expect AXS to keep growing – especially when the market flips fully bullish again. In January, Axie Infinity launched its Builders Program, encouraging developers to join its community and build in its universe.
The game's developers also recently launched a revamp of the AXS economics, reducing rewards for the platform's Smooth Love Potions (SLP) tokens and increasing AXS-based incentives. The revamp appeared to spark a bullish trend, with AXS rallying following the announcement.
Decentraland (MANA)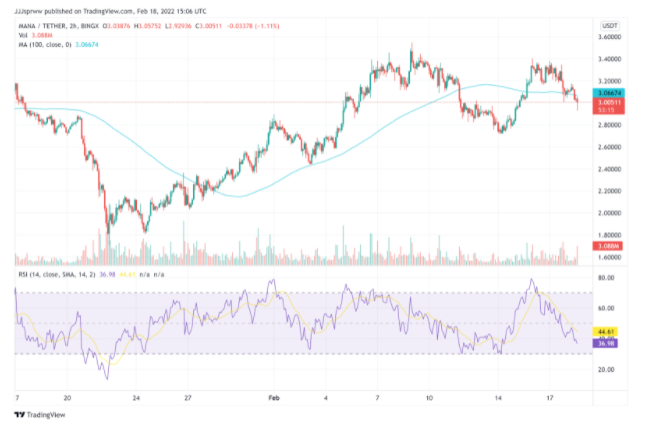 If there's one blockchain game that could challenge Axie Infinity right now, it's Decentraland. This platform functions as an online game where players buy and develop land in a virtual world. Players can also interact with each other, play games, and generally engage in the virtual world, making Decentraland one of the crypto industry's best iterations of the metaverse.
MANA is Decentraland's platform token. It is used to purchase LAND – NFTs that signify ownership of land in the Decentraland universe. Considering its importance, it's no wonder that MANA had a massive year after Decentraland took off in 2021.
This year, it's all been gravy for the Decentraland platform. It inked partnership deals with Samsung and the Australian Open, allowing both brands to open virtual events in its universe.
And the train hasn't stopped. Decentraland hosted the first-ever metaverse wedding this month, and banking giant JP Morgan became the first bank to launch in the metaverse with the help of Decentraland just this week.
We expect more of these partnerships to come, propelling Decentraland and MANA higher. If you're an investor who understands and appreciates coins with long-term value, Decentraland's MANA token is a no-brainer.
The Sandbox (SAND)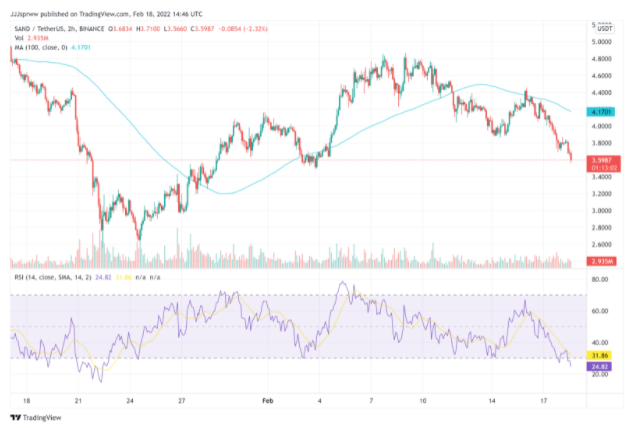 While Decentraland appears to be the crypto industry's de facto metaverse platform, The Sandbox isn't far behind. Its SAND token features on our list of popular NFT cryptocurrency to invest in as the platform continues to grow in popularity and prominence.

The Sandbox is a play-to-earn game that artfully combines decentralized finance (DeFi), blockchain technology, and NFTs. It offers a virtual world where players can build and customize their digital assets and games.
In The Sandbox, all virtual goods created can be sold as NFTs. The platform has a marketplace, with its SAND token being the medium of exchange.
The Sandbox has already begun working on some lofty goals this year. The platform announced back in January that it will create a Mega City that pays homage to some cultural icons. As part of the move, it has inked partnerships with several companies – including asset management firm TIMES CAPITAL and investment giant Sun Hung Kai.
At the same time, the platform has partnered with big musical names like Snoop Dogg and Warner Music – the latter of which is helping it to build a musical theme park in the metaverse. Partnerships like these should make The Sandbox a major player in the entertainment space. Great news for SAND.
Enjin (ENJ)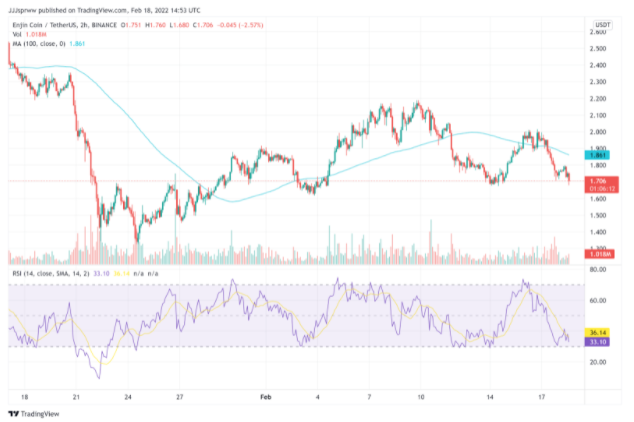 While it isn't as popular as the top 3, Enjin holds an important place in the crypto space. With the platform expecting to grow significantly this year, its ENJ token features on our list of popular NFT cryptocurrency to invest in.
Enjin is an Ethereum-based software that allows users to create and manage virtual goods – particularly NFTs. The service focuses on managing items across several platforms, ensuring that users can engage with these items without fear of fraud or high transaction fees.
Enjin became especially prominent after investment platform eToro added it to MetaverseLife – a smart portfolio tracking assets with deep roots in NFTs and the metaverse. Grayscale Investments also recently announced that it might add ENJ to its investment products. Cosigns from two of the biggest names in crypto investment must definitely help ENJ's case.
Theta Network (THETA)
Last but definitely not the least on our popular NFT cryptocurrency to invest in is THETA – the native token for the Theta Network. Here, you have a decentralized video delivery system that offers several blockchain-based solutions for the traditional video streaming landscape.
Theta offers high-quality video streaming at a fraction of the cost that you get with traditional video services. It has successfully tapped into the video streaming industry, which is expected to grow at a cumulative compound growth rate (CAGR) of 20.4% from 2020 to 2027.
Growth drivers for Theta Network are numerous. Just a few days ago, the platform partnered with Korean electronics giant Samsung, which will allow the latter to release commemorative NFTs on the former. The drop is expected to commemorate Samsung's latest devices – the s22 smartphone and s8 tablet.
Two weeks ago, Theta also partnered with Built Technology – a public cloud service – to launch the latter's products. As expected, more partnerships like these will only solidify Theta's place in the industry.
Read more: