The Ontario Securities Commission (OSC) reported tweets from the CEOs of both Kraken and Coinbase cryptocurrency exchanges, on the grounds that they were supporting non-custodial crypto wallets, that would make it more difficult for law enforcement authorities to confiscate or freeze crypto that might be used to fund the current protests in Canada.
Tweets by Jesse Powell, the CEO of Kraken, and Brian Armstrong, CEO of Coinbase, were reported to the federal police by the Canadian securities regulator, the OSC, who said that they were violating restrictions put upon truckers involved in the Freedom Convoy.
Jesse Powell sent the above tweet a week ago, based upon the announcement by Chrystia Freeland, deputy prime minister of Canada that the government was "broadening the scope of Canada's anti-money laundering and terrorist financing rules" to include digital assets such as crypto.
It is much more difficult for law enforcement authorities to confiscate or freeze digital assets in non-custodial wallets, and therefore they would vastly prefer custodied wallets given that there is a third party that can be attacked or forced to comply with orders.
After his tweet was reported, CEO Powell sent the following tweet response from his account:

Brain Armstrong, CEO of Coinbase, also tweeted a response to the Freeland announcement, saying:

Brian Armstrong also retweeted a humorous response by Nunchuk_io, a wallet provider, after it had received a court order to freeze wallet holder funds: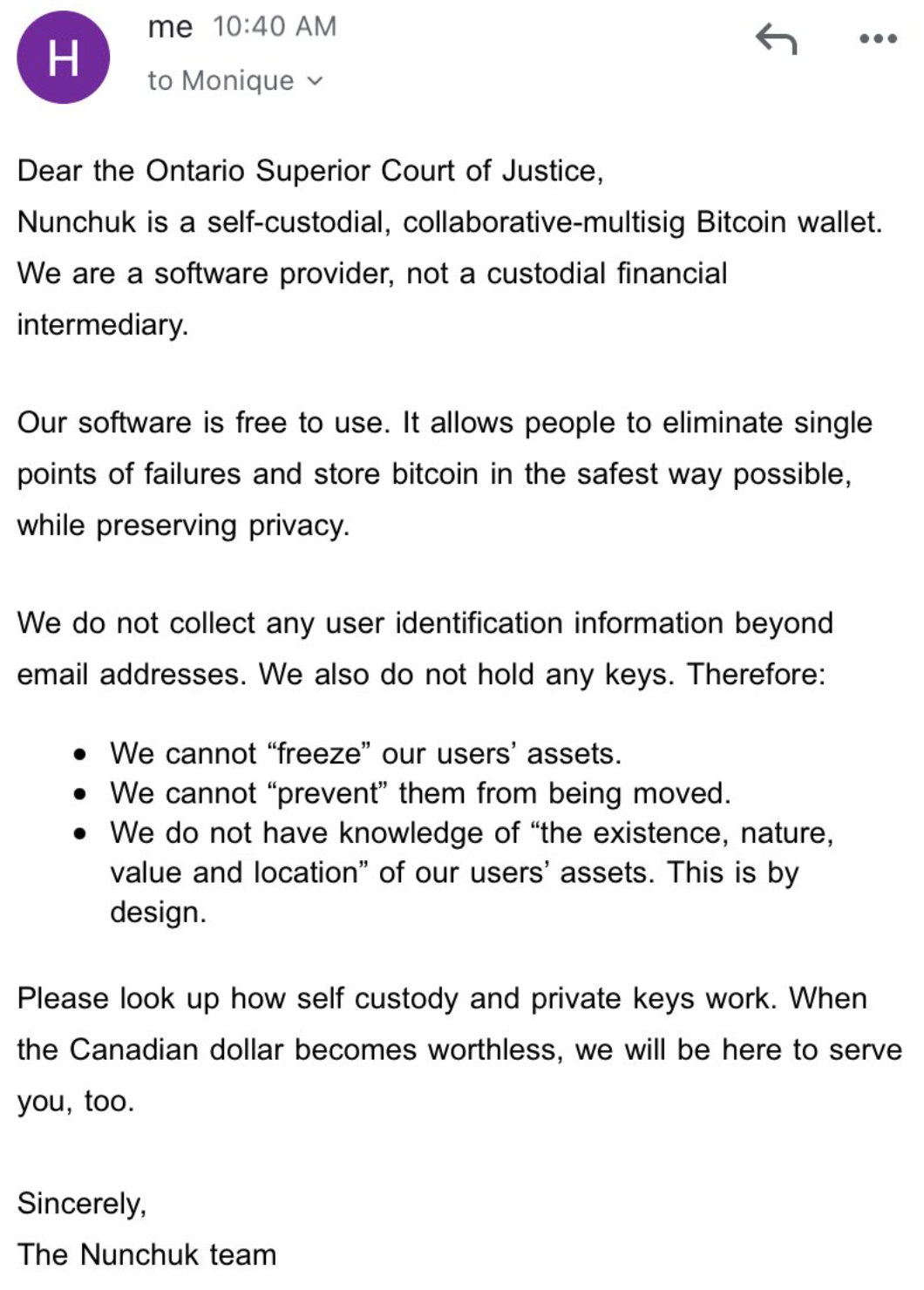 Opinion
Governments are there to serve the people, and not the other way round. Such huge overreach of its powers by the Trudeau government cannot end well and is an example that might well be copied by other governments around the world that wish to extend their powers and subdue free speech.
The spiteful sanctioning of hard-working truck drivers carrying out peaceful protests is the start of a slippery slope into a dictatorial state. Attempting to sanction thought leaders on Twitter who are pointing out flaws in democratic process is also just another step on this path.
Disclaimer: This article is provided for informational purposes only. It is not offered or intended to be used as legal, tax, investment, financial, or other advice.